Saturn transit in Capricorn
Saturn transit in Capricorn
12 July, 2022
(Tuesday)
to
16 January, 2023
(Monday)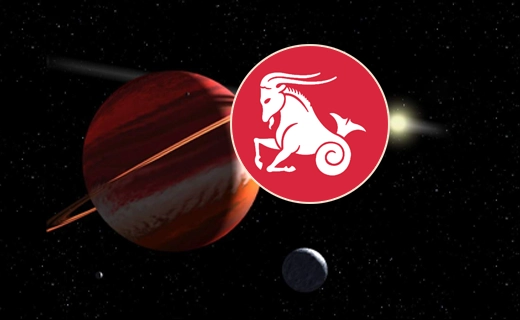 Saturn transit in Capricorn
12th July 2022 - 16th January 2023
Saturn Transit in Capricorn
Saturn Transit in Capricorn(From) :
12 Jul 2022
Saturn Transit in Capricorn(Till) :
16 Jan 2023
Saturn transit in Capricorn
24th January 2020 - 28th April 2022
Saturn Transit in Capricorn
Saturn Transit in Capricorn(From) :
24.01.2020
Saturn Transit in Capricorn(Till) :
28.04.2022
In Astrology, Saturn is considered one of the most important and favorable among all the other solar system planets. The impact of Saturn influences one's commitment, responsibility, and boundaries. One could attain Success through discipline and dedication. Apart from that, Saturn plays the role of building structure and meaning in one's life. Thus, Saturn's impact is very favorable, which creates good fortune and happiness in life. The impact of Saturn on Capricorn during the transitory period is very impactful and considered to be the wisest; even Saturn is the ruling Lord of Capricorn, which is because it plays a critical role in the life of people who have the Capricorn sign. Anyone who zodiac signs have called Capricorn will have an ambitious nature, which will be motivating enough to attain
Impact of Saturn Transit in Capricorn on Zodiac signs
This transit has a very significant impact on the lives of individual natives of all the zodiac signs. Moreover, there will be a very positive impact. To know the effect of the transit on your sign, follow below:-
Impact of Saturn Transit in Capricorn on Aries
During the transitory period, your zodiac sign's tenth house will host the position of Saturn. Your tenth house represents one's career and social status in life. Natives born under the moon sign Aries will have some positive impacts due to this Planetary movement in their lives. You will notice an improvement in your efficiency, and you will be more focused on completing your job. This transition will make your life more prosperous and successful. People who are struggling to decide their future and how to attain success in different fields will finally prevail in opportunities and take over the path of success. Working natives will work with wisdom and honesty. Your good deed will help you earn respect in every field. Your family life will be blissful and full of harmony. Business natives will have a good opportunity to earn profits, and you will also earn some monetary profits through past investment. You will have a stable health condition.
Impact of Saturn Transit in Capricorn on Taurus
The exclusive transit of the powerful planet will take place in the ninth house of your zodiac sign, which represents one's children, romance, and education. Natives will have to face some challenges during this period. However, there will be favorable results for the natives too. You will notice an increase in your management skills, because of which you will perform your tasks in time and deliver them with minimum mistakes. Natives will also gain interest in learning new aspects of life, which will help you to discover your talents or acquire a new one. Married natives will have to be careful with their children, take proper care of them in terms of their health, studies, and keep them away from bad habits. Your romantic life will also have some negative impacts, so pay proper attention to your partner and handle every aspect of their life with love and care. Career-wise, you will manage everything perfectly, and your hard work and dedication will be the only key to success. You are recommended to have control over your expenses; otherwise, you may face budgeting be the end of the month.
Impact of Saturn Transit in Capricorn on Gemini
Gemini natives are likely the unlucky ones during this transit. Saturn transiting in Capricorn on your sign will bring some difficult challenges in your life, and you will face certain challenges regarding your health, career, and personal life as well. Be careful before coming to any conclusion in your tasks. The natives must take proper precautions than seeking a cure. Business natives will get several chances for investing, though not during this transit. You have to keep patience and wait for the right time. Hasting in any deal will surely put you at a huge loss. So it's better to take proper knowledge before deciding on any aspect of life. Your hard work, dedication, honesty, and kindness is the only way to survive this situation. Take proper care regarding your health, a good diet and regular exercise will keep you away from diseases. Though if any health issue arises, go for a check-up and take proper medical care. Running from your problems will only have a temporary solution, so it's better to fight them and never look back. Staying away from office politics will be the best decision during this time, as your rivals will thrive on ruining your image if they get any chance.
Impact of Saturn transit in Capricorn on Cancer
Saturn is known as the most beneficial planet in the solar system, though sometimes it has an adverse effect on your sign. Thus in the transit of Capricorn on your zodiac sign, Cancer, you will have to be careful regarding your relationship. You will elegantly proper your career side, but your relationship with your partner may face several ups and downs, your opinions will vary, and you may have some unacceptable exchange of words with your partner. To avoid this, you have to pay attention to your partner and handle every crucial situation will love and care. Your sweet words will make them feel for you again, and your patience will be the only way out to solve the issues arising between you and your partner. Student natives will prosper in their field, your complete focus and sharpened mind will help your pass your competitive exams, even some of you have them to fulfill your wishes and shift abroad for your higher studies. Apart from that, working natives will do reasonably well during this transit. Their work will give them fruitful results. Business people will get a good chance to earn profits from different sources, and you may also get an inheritance of property, which will be very beneficial for you in the long run.
Impact of Saturn Transit in Capricorn on Leo
Zodiac sign Leo shares a good relation with the planet; thus, during the transitory period, you will spend a memorable period with tremendous happiness and satisfaction. Your sixth house will host the position of Saturn; your sixth house represents one's career and abilities. The transit of Saturn will help you gain confidence and mental strength. With this power, you will be able to defeat your enemies, and even you will face every challenge with courage and get over them in no time. The natives will enjoy enormous favors due to the Transit of Saturn in Capricorn. Your parents will support you and shower you with a blessing. Your decisions will be beneficial. Make sure you don't attain overconfidence as it can lead to certain damages in your life. Your love life will be full of joy; your partner will support you and shower you with their love. You will also enjoy some delicious food prepared by them. Career-wise, the working official will gain everyone's respect and trust, your social circle will increase, and you will make some new friends, you will have a great time with them.
Impact of Saturn Transit in Capricorn on Virgo
Virgo natives will have some mixed impact due to the transit. During the transit of Saturn in Capricorn on your sign, you will witness intensification in your curiosity. You will gain interest in studying new subjects and going deeper, like doing exploration and research work, some of you will continue this as your career as well. However, your children will need some proper attention and care. They will lose interest in their studies; they are going to face certain challenges as well. So take proper care and make sure they don't fall into the wrong hands. Career-wise, you may face certain pressure at the office. Some of you will be successful in changing jobs or getting a new one. Business natives will earn slightly lower than they expected. However, this will not affect your financial condition. Taking any decision regarding investment or others should be taken wisely and practically.
Impact of Saturn Transit in Capricorn on Libra
Libra natives will have to face some difficult challenges due to the transit. Though this challenge will be tough for the natives, it will still give you a chance to get back on your feet again. Everything depends on your will power and abilities. You will not only discover your new personality but also you will come to unleash your warrior side. The Saturn transit in Capricorn will push you to your extreme limits; this period will directly hit your career, financial growth, and personal life. So, this is the time to put your armor on and get into the real world and fight for what you deserve. Some serious work is needed to be done. The things you have done in the past will decide your future, and this transit will strongly influence your house of Kamra. Apart from that, in terms of your natal chart, you will also go through a good Dasha. You will be purchasing a new property during the Saturn in Capricorn. This will upgrade your social status, and people will come to know about you. You will still face some difficulties in your family, so always show a soft corner for them.
Impact of Saturn Transit in Capricorn on Scorpio
The Scorpions will enjoy a favorable impact through this transit. As the planet gets positioned in the house of the Scorpions, it will open new doors of productivity and opportunities in the life of individuals. The natives will enjoy the benefits of their dedication and hard work. You will earn some extra income, which will help you clear out your past debts. This planetary movement will prove very beneficial for the working officials; there are chances of getting a promotion or increment in your salaries. Your family will provide you with mental support and strength. They will have faith in you, and their trust will keep your charm alive, and you will feel confident and powerful. Apart from that, student natives will gain concentration in their studies. Some of you will gain interest in new fields which will give a shine on your personality. Married natives will have a blissful time with their spouses, and you will have some unforgettable moments with them. Your planetary periods or Dasha should correlate transit for exact results.
Impact of Saturn Transit in Capricorn on Sagittarius
This transit will not grant the Sagittarians any kind of favor. The impact of the planetary movement will bring a bad impact on one's peace and happiness. You need to stay precautious at every moment. There are some tips on your card, though you need to be very careful during self-driving or traveling through vehicles. Working natives must remain careful of your rivals, they will go to any extent to ruin your image, and this time will lead to worse conditions for some of you. You may get into quarrels with your family as well. Business natives will face frustrations because of delays and disappointments.
Impact of Saturn Transit in Capricorn on Capricorn
As the transition is taking place on your own sign, you must be careful in different aspects of your life. This transit will have an adverse impact on the lives of the natives. This event will turn your life upside-down. Natives will witness things changing around them drastically. You will have a different thinking aspect due to this, and even your behavior will slightly change. You will face some pressure on your expenditure side as well, and there will be a huge financial loss, which will put you in stress. You can take a loan or lend from someone, which will help you survive during this duration. You will get into unnecessary trouble due to arguments and quarrels, and you will even ruin your relations with your friends or relatives. On the other hand, natives will attain success in their career, and your marital life will be smooth, your partner will give the required mental support and love.
Impact of Saturn Transit in Capricorn on Aquarius
Saturn transit in Capricorn brings both positive and negative impacts in the lives of natives having different zodiac signs. In this case, when the planet is positioned in the house of Aquarius natives, there will be a huge impact on your financial condition. You will witness a huge loss and increase in your expenditure, and this loss will be your greatest loss, which you have never seen before. You will incur mental stress, which will disturb you for a long time. Natives should not expect any return or profits, and investing during this period will be regretful. This will even deteriorate the income of working officials. You will feel weak, and there will be a minimum of progress. Even your marital or love life will not hold a good position, you will get into clashes and arguments with your partner, and it would be very difficult to understand each other. So you are advised to keep patience and wait for the right moments to attain progress.
Impact of Saturn Transit in Capricorn on Pisces
Pisces will be the successful survivors of this transit, as their awaited wishes and desires will finally be fulfilled. The Pisces natives will be the luckiest to be born under this sign. The transit of Saturn in Capricorn will bring enlightenment in your life, though there is some chance of an adverse effect too, so be careful and take every step with full precaution.
Click on all transits of Saturn to read about impact of Saturn transits into other signs.