Mars Transit in Scorpio
16 November, 2023
(Thursday)
to
27 December, 2023
(Wednesday)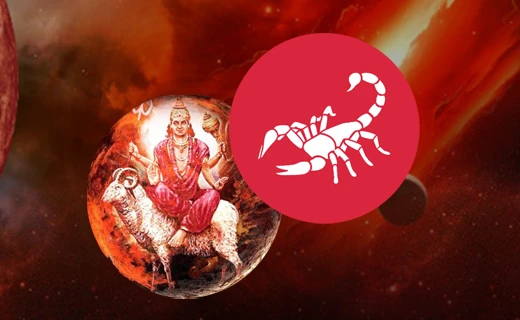 Mars Transit in Scorpio
5th December 2021 - 15th January 2022
Mars Transit in Scorpio
Mars Transit in Scorpio(From) :
5 Dec 2021
Mars Transit in Scorpio(Till) :
15 Jan 2022
Mars Transit in Scorpio
16th November 2023 - 27th December 2023
Mars Transit in Scorpio
Mars Transit in Scorpio(From) :
16 Nov 2023
Mars Transit in Scorpio(Till) :
27 Dec 2023
Mars Transit in Scorpio
27th October 2025 - 6th December 2025
Mars Transit in Scorpio
Mars Transit in Scorpio(From) :
27 Oct 2025
Mars Transit in Scorpio(Till) :
6 Dec 2025
Mars Transit in Scorpio
8th October 2027 - 17th November 2027
Mars Transit in Scorpio
Mars Transit in Scorpio(From) :
8 Oct 2027
Mars Transit in Scorpio(Till) :
17 Nov 2027
Mars Transit in Scorpio
15th September 2029 - 26th October 2029
Mars Transit in Scorpio
Mars Transit in Scorpio(From) :
15 Sep 2029
Mars Transit in Scorpio(Till) :
26 Oct 2029
Mars is the lord of Scorpio, and those born with Mars in Scorpio will inherit Mars-like traits—they will have stamina and physical endurance. As such, Mars has a unique role to play for Scorpio natives. Full of passion and force, Mars is the lord of Scorpio, making its natives more dominant and energetic. As a result, they are always ready to accept challenges in their lives. Their strong will power is the key to it. These natives exploit others for their gains. Generally, Scorpio natives do not believe in midline solutions. So, they do not get satisfaction while compromising with anyone and try to make their own rules.
Effect of Mars Transit in Scorpio on Aries
Mars' transit will occur through your eighth house. During this time, you may come across difficulties in reaching your goals. You may have the feel that people who do not want to see you well-off are planning to throttle you. Nevertheless your colleagues may be planning to conspire against you. You should lay more focus on work and less on the politics that goes on in the office. Business professionals need to be careful about their financial matters. Health-related issues may crop up. Overindulgence in work will give rise to mental and physical problems. You will not be in a position to put your thoughts before your family members. Therefore, you should speak judiciously during this period. Regarding your love life, your partner could develop misunderstandings with you.
Effect of Mars Transit in Scorpio on Taurus
The seventh house will host Mars's transit while being in its transitory motion. This house signifies impending partnership ventures, which are yet to occur in one's life. To make your life blissfully happy, you should talk to your partner openly. Mars' transit may fill your heart with pride. Due to your changed behavior, your family members and life partner will go through a difficult time. Regarding your health, stomach problems may crop up during this period. You may also experience insomnia due to mental tensions. In the meantime, you can get huge profits due to your business. Works done by you will help you get good remarks from your seniors. It will also encourage you to work more efficiently.
Effect of Mars Transit in Scorpio on Gemini
Mars, the indicator of might and courage, will be transiting in sixth house for Gemini natives'. As a result, you will get positive results in many spheres of life. Specific changes will be a part of your behavior, but you will control your anger. Your dynamism and energy will bring positive changes to the lives of the people around you. Both job seekers and businessmen will get rewarding results with the help of their thinking skills. You can read more about career decision and job on the link given below. If you get an idea that you are lagging due to certain faults, you may work on them to go ahead in life. Your optimistic nature will enable you to decide your future. The way you get things done will remain pleasant, and fortune will favor you.
Effect of Mars Transit in Scorpio on Cancer
During this transit, the Red planet will occupy the fifth house of Cancer natives'. Consequently, it will bring positive energy to your life, and you will accomplish your tasks on time. If any work has been put on hold, then it will be completed during this transit. Moreover, during this transit, you will realize the importance of time. You will remain active on the familial front. If your parents are facing any problems, then you should spend some quality time with them. With your communication skills, you will cheer those people who are a part of your social sphere. Nevertheless, you may have a rude demeanor while dealing with an unjust situation. If you do a business, your subordinates will be happy by seeing your just nature. You will also take good care of them. Job holders will get credit for a task that they have done in the past. Your conjugal life will be happy and prosperous, but your kids will be the cause of concern. Cancer people may make some important decisions of life during this transit. As the fifth house is also the ruler of intellect and knowledge, students with this sign will learn new things.
Effect of Mars Transit in Scorpio on Leo
Mars, the red planet, will be transiting in the fourth house, which is why you need to remain watchful all the time. You may face unfavorable circumstances, but you should remember that life is made of many upheavals. They can help you gain experience in your life. Unless and until situations are not favorable for you, you should remain calm and composed. Be health-conscious, as you may be prone to heart problems and mental stress. You can read more about factors that lead to health issues on the link given below. Your societal life is expected to be good. An old friend of yours will probably help you. But your family life will remain stressed. Property-related matters may create flutter among your family members, but an elderly family member will end it. During this time, you will be lost in your imagination.
Effect of Mars Transit in Scorpio on Virgo
Mars will transit in the zodiac native's third house, which is the house of courage and might. This transit will prove promising for you. Married people will get rewarding results. You will also get sufficient time to spend some romantic moments with your partner. Nevertheless, your life partner's health will suffer. Differences brewing between wedded duos will come to an end. Your economic condition may be a cause of your concern for you. On the contrary, your income may increase during this time. Your unnecessary worries will vanish. Housewives may make their husbands happy with their culinary skills. Because of the expertise and knowledge provided by a relative, businessmen will get profits. Student's intellect will leave a good impression on their mentors' psyche.
Effect of Mars Transit in Scorpio on Libra
Mars will transit through the native's second house. According to astrology, this house is considered the house of income. Your speech is dominated through this house only. This transit will also pose certain challenges to your family life. You will also go against your family's principles to have a particular thing done, which will be loathed by the elderly family members. If you think that you decided correctly, then stand by it and decipher the same to your family members. You will get propitious results on the economic front. Profits will be sought from unimagined sources. Regarding your conjugal life, your life partner will be blissfully happy with you. In the meantime, some of you may face delay in marriages.
Effect of Mars Transit in Scorpio on Scorpio
As Mars' transit is taking place in a native's zodiac sign, it will remain in your first house or ascendant. It is called the house of oneself and gives information regarding self-knowledge, physique, and health. Your creativity will be at their peak while Mars transits in your house of the self. Students will perform better in their studies during this transit. Your self-confidence will increase. But, you are requested to express your views cautiously as words expressed with harshness might hurt your relatives and friends. Your wisdom will help you get out of disputed situations at the workplace. Businessmen should not let their relatives interfere in their professional life.
Effect of Mars Transit in Scorpio on Sagittarius
Mars will transit in native's twelfth house. During this time, you will face mental tensions, which will create obstacles in getting things done. During this time, you won't find anyone to guide you in the right direction, which can pose challenges in your life. You are advised to have belief in yourself rather than in others. You will feel uncomfortable before your family members due to the inability to clarify your viewpoint before them. Regarding married people, they will get the support of their life partners. Your health may deteriorate. You will start working to improve your health once you become mentally stable. You should also be attentive towards your children's health. A pilgrimage is also on the cards for the purification of your soul and mind.
Effect of Mars Transit in Scorpio on Capricorn
Mars planet transits in the eleventh house for the natives. Regarded as the house of profits, Mars transit in this house will be beneficial for more than one aspect of your life. Buying a new property will be lucrative for you, and you will get rewards shortly. The market will fluctuate, but profits will pour into your pockets. Those who have been planning to buy a house for a long time may be successful in their mission. At your workplace, you will perform your work well and have a good relationship with your co-workers and officials. The optimism in your thoughts will make you magnetic amongst your colleagues. A careless attitude of yours regarding your health may pose bigger problems to you. As you will be sturdy and healthy, none can stop you from ruling the world. Those who are married will see a propitious time.
Effect of Mars Transit in Scorpio on Aquarius
Mars will reside in native's tenth house during this transit period. This house indicates one's Karma or profession. As Mars enters this house, your confidence will increase, and you will show your performance in a praiseworthy manner in your life. Works done by you at present will also provide you better future. Nevertheless, certain deeds of your past may keep troubling you, but you should not ponder over your past too much. It will also increase your mental stress. You may be going out with your family's younger members. A relative may come forward to help you financially. Those involved in the business will succeed through some schemes and projects implemented in the past. Praises may be showered upon you due to them. Those with Aquarius zodiac sign should be attentive to their mental health.
Effect of Mars Transit in Scorpio on Pisces
Mars will occupy the ninth house, the house of religion, during its transit. Your IQ level will be high during this time. To make your life systematic and ensure your future security, you may have to make important decisions. If you remain worried you will not be able to decide judiciously, seek guidance from your parents or spouse. This transit will not be advantageous for your wellbeing. So, take a healthy diet and exercise regularly to keep yourself fit and fine. Couple will face mundane results. Enjoying a trip with your life partner will refresh your marital life. You will perform well on the societal front. Your friends will be very helpful and cooperative during this time and help you resolve your problems.
Click on all transits of Mars to read about impact of Mars transits into other signs.
You can also read how astrology helps you on career decision and job, business success, loan and debt crisis and health issues.