Ram Navami in 2023
30
March, 2023
(Thursday)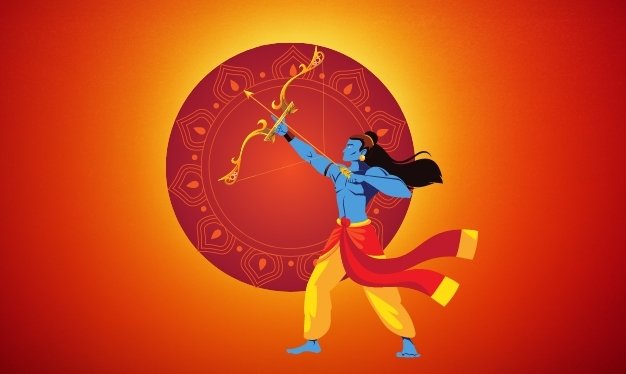 Ram Navami 2022-23: Importance, Signification and Puja Vidhi
10th April
Ram Navami Puja Muhurat
Date :
10th April 2022, Sunday
Navami Tithi Start & End Time :
10th April 2022, Sunday
Ram Navami 2023
30th March
Ram Navami Puja Muhurat
Date :
30th March 2023 Thursday
Time :
11:11 AM to 01:40 PM
Duration :
02 Hours 29 Mins
Navami Tithi Start & End Time :
09:07 PM on Mar 29, 2023 to 11:30 PM on Mar 30, 2023
Ram Navami 2024
17th April
Ram Navami Puja Muhurat
Date :
17th April 2024 Wednesday
Time :
11:03 AM to 01:38 PM
Duration :
02 Hours 35 Mins
Navami Tithi Start & End Time :
01:23 PM on Apr 16, 2024 to 03:14 PM on Apr 17, 2024
Ram Navami 2025
6th April
Ram Navami Puja Muhurat
Date :
6th April 2025 Sunday
Time :
11:08 AM to 01:39 PM
Duration :
02 Hours 31 Mins
Navami Tithi Start & End Time :
07:26 on Apr 05, 2025 to 07:22 on Apr 06, 2025
Ramnavami is a festival that is associated with the birth anniversary of Lord Rama, and it holds a lot of importance in Indian culture. The Navami tithi of Shukla Paksha of Chaitra month is celebrated with joy and delight as Shri Rama Navami. Every Hindu in India marks this day as an important day because the seventh incarnation of Lord Vishnu was born in the human form at King Dasharatha and Mata Kaushalya's house in the city of Ayodhya. Let's discuss in more detail about the Ramnavami Festival, which is associated with the born of Maryada Purushottam, Lord Rama.
Importance of Ram Navami
This holy festival of Ram Navami is celebrated on the Navami Tithi of Shukla Paksha of Chaitra month. As per the mythological beliefs, Lord Rama was born on this day. According to religious scriptures, Lord Hari Vishnu has taken avatar as Lord Rama to end the atrocities of Ravana in Tretayuga and to restore religion. According to those scriptures, Lord Rama was born on the ninth day of Chaitra Shukla Paksha in Punarvasu Nakshatra and Cancer ascendant. Undoubtedly, this festival holds great importance in Hindu culture. Lord Rama faced immense troubles throughout his lifetime, but he presented himself as an exemplary character. He kept his dignity and waited for the perfect time to take decisions in the most difficult situations. This is the reason why he was considered the Maryada Purushottam Shri Rama. The whole life of Lord Rama shows that in the most difficult circumstances, we should not give up our religion and did not follow the path of immorality as he did in his life.
In India, people celebrate this auspicious day by fasting and worshiping Lord Rama. Chaitra Navratri also comes to an end with this festival. On this day, who worship Lord Rama with devotion will get happiness, prosperity, peace, good fortune and children's happiness in their life. On this holy day, devotees earn Virtue through visiting holy places and taking snan in the holy river. It is an ancient belief that if a person worships Lord Rama by chanting his name or mantra with proper fasting throughout the day, they will get blessings from Lord Rama. It is believed that if you donate money, food, clothes, and other necessary items to the needy, it will help you get Lord Rama's blessings. It is believed that through this donation, one can get relief from the sins done in past and present life.
This holy festival of Ram Navami is celebrated on the last day of Navratri. On this day, there is a tradition to worshiping small girls of 2 years to 10 years at home. It is known as Kanjak or Kanya pujan. It is believed that these small girls are the avatar of Goddess Durga. So, by performing this, you will get the blessings of Lord Shri Ram along with the special blessings of Goddess Durga. On this day, worshiping Lord Rama and Goddess Sita with proper rituals will help you to get blessings in the form of marital bliss. On this day, the Lord Rama temples are decorated and fairs are organized.
Along with Lord Rama, the idols of Mata Sita and Lakshman Ji are also decorated beautifully. Ram Navami is celebrated all over the country, but Ayodhya, the birthplace of Lord Shri Ram, is specially decorated. People from different countries visit Lord Rama's temples to witness the fair organized on the occasion of Ram Navami. Bhajan-Kirtan is also organized in the temples for the worshipers. There are some prevalent stories on Ramnavami that should be known to every person.
Ram Navami Story | Ramnavmi Katha
According to Ramayana, King Dasharatha of Ayodhya had three wives, but they did not have any children for a long time. Due to this, King Dasharatha was very worried. Sage Vashistha suggested him to perform Putrakameshti Yajna to get child happiness. King Dasharatha performed the Putrakameshti Yagya as directed by the Sage Vashistha. After the yajna, a divine man came out with a bowl of kheer in his hands.
King Dasharatha gave that kheer to his three queens to eat as a prasad. After a few months of eating kheer, all the three queens became pregnant. After nine months, Kaushalya, the eldest queen of King Dasharatha, gave birth to Lord Sri Rama, Kaikeyi to Bharata, and Sumitra to two twins, Lakshmana and Shatrughna. As per Hindu beliefs, Lord Rama was born on Navami Tithi of Chaitra Shukla Paksha, which is now known as Ram Navami. It is believed that those who worship Lord Shri Ram on Ram Navami with proper Vidhi, will get free from all troubles in their life.
Ramnavmi Pujan Vidhi
Worshiping Lord Rama on Shubh Muhurat reaps special benefits. Let us know the proper Vidhi to worship Lord Rama on Ramnavmi.
On the day of Ram Navami, wake up early in the morning at Brahma Muhurta and wear clean clothes after bathing.

Then put a picture of Ram Darbar at the worship place of the house and purify them with Gangajal or Panchamrit.

After purification, do tilak of Lord Rama with roli, sandalwood, or turmeric and offer garlands of yellow flowers.

Light a lamp of pure ghee and incense sticks in front of that idol.

First of all, worship Lord Ganesha.

Then worship Lord Rama, Lakshmana, Goddess Sita, and Hanuman ji as per proper vidhi.

If you can, then recite Shri Ramcharitmanas, Shri Ram Raksha Stotra or Ramayana.

After worshipping, offer them bhog and Tulsi leaves.
In the end, perform aarti and pray for the fulfillment of your wishes.