Pongal in 2023
15
January, 2023
(Sunday)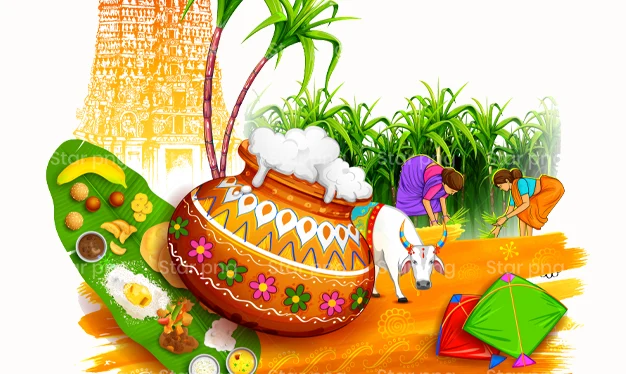 Thai Pongal Muhurat
Date :
Wednesday, January 15, 2020
Pongal Sankranti Moment :
09:52 PM, Jan 14
Pongal Festival 2021: The Four Days Colorful Harvest Festival Of Tamil Nadu
14th January
Thai Pongal Muhurat
Date :
Thursday, January 14, 2021
Pongal Sankranti Moment :
03:59 AM
Pongal Festival 2022: The Four Days Colorful Harvest Festival Of Tamil Nadu
14th January
Thai Pongal Muhurat
Date :
Friday, January 14, 2022
Pongal Sankranti Moment :
10:13 AM
Thai Pongal Muhurat
Date :
Sunday, January 15, 2023
Pongal Sankranti Moment :
04:27 PM, Jan 14
Thai Pongal Muhurat
Date :
Monday, January 15, 2024
Pongal Sankranti Moment :
10:24 PM, Jan 14
Thai Pongal Muhurat
Date :
Tuesday, January 14, 2025
Pongal Sankranti Moment :
04:33 AM
Thai Pongal Muhurat
Date :
Wednesday, January 14, 2026
Pongal Sankranti Moment :
10:43 AM
Thai Pongal Muhurat
Date :
Friday, January 15, 2027
Pongal Sankranti Moment :
04:44 PM, Jan 14
Thai Pongal Muhurat
Date :
Saturday, January 15, 2028
Pongal Sankranti Moment :
10:56 PM, Jan 14
Thai Pongal Muhurat
Date :
Sunday, January 14, 2029
Pongal Sankranti Moment :
04:58 AM
Thai Pongal Muhurat
Date :
Monday, January 14, 2030
Pongal Sankranti Moment :
11:06 am
Pongal is a festival of Tamil Hindus. It is celebrated on January 14-15 annually. This is similar to Navan, which is regarded as the harvest ceremony (Shasotsav). Pongal in Tamil means boom or viplav. Traditionally, it is a festival related to goodwill in which rain, sunshine, and agricultural cattle are worshiped to bring fulfillment. The history of this festival is at least 1000 years old. It is celebrated with great enthusiasm in other countries like Sri Lanka, Malaysia, Mauritius, USA, Canada, Singapore, besides Tamil Nadu of India. All government institutions in Tamil Nadu declare a holiday on this day. The day of January 14 is celebrated in North India in the name of Makar Sankranti, which has significance for the Sun's departure towards Makar Rekha. It is known as Uttarayan in Gujarat and Maharashtra and is observed as Sankranti in Andhra Pradesh, Kerala, and Karnataka (Tamil Nadu). In Punjab, it is regarded as Lohri. The festival of Pongal is celebrated differently in the form of Tamil Nadu in South India.
इस पेज को हिंदी में पढ़ने के लिए "पोंगल" पर क्लिक करें।
Here, the Sun is considered a giver of food and money and is celebrated for four days, and gratitude is expressed. This festival is for the gods related to agriculture and crops. This festival's name is Pongal, as the prasad that is offered to Sun God on this day is called Pagal. Another meaning of Pongal in the Tamil language is 'to boil well.' In both the forms, it has the same purpose, 'Boil well and make offerings to the Sun God.' Pongal is also essential as it begins on the first date of the Tamil month. The importance of this festival can be understood from the fact that it lasts for four days. Every day Pongal has its name. The first Pongal is called Bhogi Pongal, which is dedicated to Devraj Indra. It is called Bhogi Pongal because Devraj Indra Bhog is considered to be the god of coolness. People carry their old clothes and garbage from their homes during the evening and gather them in one place and burn them. It shows respect for God and a sense of terminating evil. Young people play Bhogi Kottam throughout the night, a type of drum made of buffalo sing.
The second Pongal is called Surya Pongal. It is requested to Lord Surya. On this day, a particular kind of Kheer called Pongal is made, which is made from newly prepared rice, moong dal, and jaggery in an earthen pot. After Pongal is ready, special worship of Sun God is initiated, and he is offered this Pongal and sugarcane in the form of Prasad, and gratitude is given for giving the crop. The third Pongal is called Mattu Pongal. According to Tamil beliefs, Mattoo is the bull of Lord Shiva; due to a mistake, Lord Shiva sent him to the earth and asked him to produce food for humans. Since then, he has been living on earth and helping humans with agricultural stuff. On this day, farmers get their bulls bathed, apply oil in their horns, and decorate the bulls in another manner. They are worshiped after their hair is adorned.
Along with the bull, cows and calves are also worshiped on this day. Somewhere people even know it by the name of Keanu Pongal in which sisters worship their brothers for happiness and brothers give gifts to their sisters. Kanya Pongal is celebrated on the last day of the four-day festival, also known by the name of Thiruvallur. On this day, the house is adorned. Toran is made at the door along with mango palav and coconut pattas. On this day, women prepare kolam, i.e., rangoli, on the head of the house. On this day, Pongal is celebrated grandly. People wear new clothes and send Pongal and sweets to others as Vayana. The fight of bulls takes place on the day of Pongal, which is very famous. At night, people organize mass enjoyment and wish each other.
The Meaning of Pongal
On the first Amavasya of Pongal, people promise to eliminate harmful practices and indulge in good things. This process is called 'Pohi,' which means 'to go.' Pongal in Tamil means boom or viplav. The next day is called Pratipada, which is like Diwali. Hence, Pongal is popular.
Importance of Pongal
This festival stands for the farmer's community. By January, the main crop of Tamil Nadu, sugarcane and paddy, are ready for harvest. The farmer gets happy by looking at the farms and acknowledges the Almighty. The bull is also worshiped on this day because it plows the fields. Hence, garlands and bulls are bathed, and wreaths are tied between their horns. Their foreheads are painted, and they are offered sugarcane and rice. Fair is also organized in some places. In which bulls race and various sports-events are organized. India is agricultural land, and here, Nature is worshipped. Like another festival, Pongal is known as Uttarayan Punyakalam, which holds special significance in Hindu mythology and is exceptionally pious.
History of Pongal
Pongal is an old festival in South India, especially in Tamil Nadu. If this festival's history is to be calculated, it can be considered from the Sangam age, i.e., around 200 BCE to 300 AD. However, Pongal is celebrated as a Dravid harvest festival, and it is also mentioned in Sanskrit Puranas. Historians classified the festival with the Thai United Nations and the Thai Niradal, who believed that the festival was observed during the Sangam age. Some mythological legends are also related to the celebration of Pongal. Pongal's two stories are mentioned below, related to Lord Shiva and Lord Indra and Krishna.
Four days Celebration
The festival of Pongal is observed for four days. Bhogi is celebrated on the first day, Surya on the second day, Mattoo on the third day, and Kanya Pongal on the fourth day. In the Bhogi Pongal, on the first day, Indradev is worshipped; on the second day, Suryadev is worshipped; on the third day, Mattu is worshipped, i.e., Nandi or bull, and on the fourth-day Kanya is worshipped, which is done with great magnificence in Kali temple.
Why is Pongal Celebrated
After the harvest of paddy in South India, people observe Pongal's festival to express their happiness and pray to the Almighty for the future harvest. To bring prosperity, rain, sun, Lord Indradev, and agricultural cattle are worshiped. Just as the new year begins in North India with Chaitra Pratipada, similarly in South India, the new year is regarded as Pongal's beginning on sunrise.
Four Kinds of Pongal Festivals
The four types of Pongal are as follows -
1.Bhogi Pongal, Surya Pongal, Mattoo Pongal, and Kanya Pongal. Indra Dev is worshiped onBhogi Pongal on the first day. Indra dev is also called Bhogi. People do Indradev's puja on the very first day of Pongal and pray for rain and a good harvest.
2. The second worship of Pongal is in the form of Surya Puja. In this, new rice, moong dal, and jaggery are kept in new utensils, and puja takes place using sugarcane, ginger, etc., on banana leaves. This Prasad is offered to the Sun.
3. The third day is celebrated as Mattoo Pongal. Mattu is the puja of Nandi, i.e., the bull of Shiva. It is believed that once Nandi, one of the foremost gurus of Shiva, had made a mistake, for that mistake, Lord Shiva asked him to become a bull and help the humans on earth. This festival of Pongal is still celebrated in his remembrance.
4. The fourth Pongal is the Kanya Pongal, which was celebrated with great splendor in a Kali temple. Only women participants in it. In ancient times, this festival was observed as Dravida Shasya Utsav. The inscription in the temple at Tiruvallur says that Kilutunga donated land and temples to the needy on Pongal's occasion. On this occasion, there was a practice of daring war with dance ceremony and bull. The most influential person was the girl who chose her husband by putting varmala on this day.
Uffan Made of Cow's Milk
The cow's milk ufaan is given importance at this festival. The reason for this is that just as the milk is pure and auspicious, the mind of every living being is meant to be bright, and the mind should have values. That is why milk is boiled in new utensils.
Dishes on Pongal
Kheer is prepared on this day. On this day, sweet and spicy Pongal dishes are prepared. They prepare food with rice, milk, ghee, sugar, and offer it to the Sun God.
What is the Legend Behind Pongal
Legend 1: According to a legend, once upon a time, Lord Shiva asked his bull Basava from heaven to convey a message to the humans that - they must bathe with oil every day and consume food once a month. But Basava went to Prithvi Lok and gave the opposite message to humans. He conveyed to humans that - they should bathe in oil one day and consume food every day. Lord Shiva became very agitated with this mistake and cursed his bull Basava, saying that - they have been ousted from here to live on earth permanently and they will have to plow to lend a hand to humans in producing more food. . In this way, this day is dedicated to cattle.
Legend 2: This is another mythological story related to Lord Krishna and Lord Indra. Once, Lord Krishna was a child, and he thought of teaching a lesson to Indra, who had become headstrong after becoming the Head of the Gods. Lord Krishna requested the cowherds of his village to stop doing Indra's puja. Due to this, Lord Indra was cross, and he sent storm and rain for three days consistently, due to which the whole of Dwarka was destroyed. Then Lord Krishna lifted the Govardhan mountain in his small utensil to protect everyone, then Indra realized his fault and realized the power of Lord Krishna. Then Lord Krishna asked Vishwakarma Ji to rebuild it, and the cowherds re-cultivated the crop with their cows.
Legend 3: Madurai's husband and wife are engaged to Kannagi and Kovalan. Once, at the behest of Kannagi, Kovalan went to the goldsmith to sell Payal. The goldsmith tells the king that Payal, who has come to sell Kovalan, is similar to Rani's stolen Payal. The king sentenced Kovalan to the gallows without any investigation for this crime. Enraged by this, Kannagi did a tremendous penance to Shiva and asked him the boon to destroy the king and his kingdom. When the people of the state came to know of this, the women there worshiped Kali Mata on the river Killilyar. Prayed to arouse mercy in Kannagi to protect the life and kingdom of his king. Mata Kali, happy with women's fast, awakened a sense of compassion in Kannagi and saved the king and the state. Since then, this festival is observed with great magnificence in the Kali temple. In this way, the four-day Pongal ends.
You can read similar write-up on relevance of astrology in indian festivals for all other major Indian Festivals like Basant panchami, and holi.