Goddess Skandamata in 2023
19
October, 2023
(Thursday)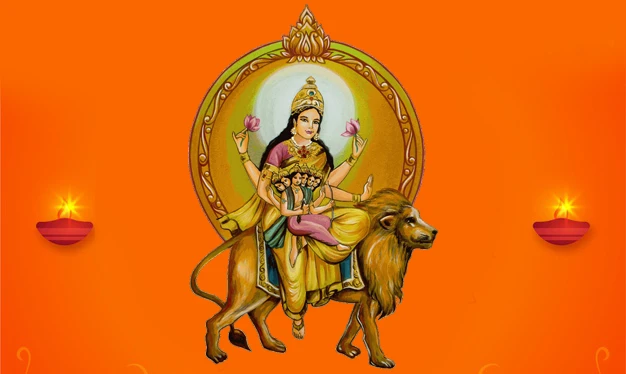 Navratri 2021 Day 5: Read About Skandamata Devi Rituals And Aarti
10th October
Goddess Skandamata Puja Muhurat
Date :
10th October 2021 Sunday
Navratri 2022 Day 5: Read About Skandamata Devi Rituals And Aarti
30th September
Goddess Skandamata Puja Muhurat
Date :
30th Sep 2022, Friday
Goddess Skandamata 2023
19th October
Goddess Skandamata Puja Muhurat
Date :
19th October 2023 Thursday
Goddess Skandamata 2024
8th October
Goddess Skandamata Puja Muhurat
Date :
8th October 2024 Tuesday
Goddess Skandamata 2025
27th September
Goddess Skandamata Puja Muhurat
Date :
27th September 2025 Saturday
Goddess Skandmata resides in the hills and blesses living beings around the world with new energy and knowledge. During Navratri, this Goddess is worshipped on the fifth day. It is said so that even a fool can turn into a wise man with Goddess Skandmata's blessings. The fifth face of Goddess Durga is known as Goddess Skandmata. Her name Skandmata is kept after her son- Lord Skand Kumar (Kartikeya). Goddess Skandmata is always seen with her son-Lord Skand Kumar sitting in her lap as a kid. It is believed that a seeker's mind takes rest and completes an entire circle on this fifth day of Navratri. Goddess Skandmata's sculpture is a symbol of love and value, presenting Goddess Durga significantly. Goddess Durga's fifth form got its name from Lord Kartikeya. Since Goddess Durga gave birth to Lord Kartikeya in this form, this form was named after him.
इस पेज को हिंदी में पढ़ने के लिए "देवी स्कंदमाता" पर क्लिक करें।
The representation of Goddess Skandamata
Goddess Skandamata takes her form with four arms. The upper right arm holds Lord Skand Kumar, and the lower right arm holds a lotus. Every form of Goddess Durga is highly auspicious and sits on a Lotus. This is why Goddess Skandamata is also known as Goddess VidyaVahini and Goddess Padmasana. Goddess Skandamata also rides the lion. Goddess Skandamata is believed to be the master of the solar system. Devotees gain a supernatural mind when he worships Goddess Skandamata. This supernatural blessing completes a worshipper's austerity. If somebody worships the Goddess with utmost concentration, he will get rid of all his problems and will head towards a path of salvation.
Who is Goddess Skandamata?
Skandamata means the mother of Lord Skanda. Goddess Parvati's elder son's name is Skanda. When Goddess Parvati gave birth to Lord Skanda, she was hence known as Goddess Skandamata. Though, there's also a saying that Adishakti Jagdamba gave birth to a kid with her energy to free the world from Banashur's torture. Sanat Kumar with six heads is known as Skanda. According to ancient beliefs, Goddess Skandamata is the daughter of the Himalayas, which is why she's also known as Parvati. Since she's also the wife of Lord Shiva, she can also be called Goddess Maheshwari. Goddess Skandamata has a fair body and is also known as Goddess Gauri. Being the mother to Lord Skanda, she was known as Skandamata. Lord Skanda, or Lord Kartikeya, was appointed as Lords' commander in a famous battle between Lords and Asuras. That is why Shakti and Kumar always accompany Lord Skanda's name in ancient books. For being the mother to Lord Skanda, Goddess Durga is known and worshiped as Goddess Skandamata. Goddess Skandamata has four arms. Her lower arm on the right carries a lotus, while the upper arm on the left side has a Varmudra. The lower arm on the left also has a lotus in it. Her entire representation is pure, and she rides the lion.
Importance of Goddess Skandamata
Goddess Skandamata rides the lion, which is the symbol of anger, and she has a kid in her lap who's Lord Kartikeya, who represents motherly love. This form of Goddess Durga teaches us that if we decide to walk the path of devotion, we should have immense control over our anger the way that the Goddess controls her lion. On the other hand, a kid in Goddess's lap teaches us that we can always choose the path of devotion even with all the benefits and love from the real world. All you need is the determination to do so. It's also believed that a woman is blessed with a child if she worships Goddess Skandamata. The ability to think better is a blessing from Goddess Skandamata. It's also said that only because of Goddess Skandamata's blessings, Kalidas created the epic Raghuvansham and Meghdoot.
Significance of worshipping Goddess Skandamata
If Goddess Skandamata is worshipped with a determined mind, it's believed that she blesses her worshippers with every happiness in the world. If a couple can not conceive a child or is facing difficulty to do so, worshipping Goddess Skandamata can be beneficial in Navratri. Worshipping Goddess Skandamata generally solves all the child-related problems for a couple. If the planet Jupiter does not have strong or good effects on your Kundali, worshipping Goddess Skandamata can help. Worshipping her can also help people get rid of all the arguments prevailing at home. This happens with auspicious and radiant energy that the Goddess receives as a blessing.
Goddess Skandamata blesses with a child.
People who are facing difficulty in conceiving a child should worship this form of Goddess Durga. This form of Aadishakti is believed to bless people with a child. It is crucial to mention Lord Kartikeya when you're worshipping Goddess Skandamata for a child.
Goddess Skandamata teaches unity.
Goddess Skandamata teaches us how life in itself is a constant fight between the good and evil like the battles between Lords and Asuras, and a person himself is the commander for all such battles. To be able to receive the power to make wise decisions, we should worship Goddess Skandamata. One should have a determined mind for this Puja for the mind, attitude, and mediation to meet at a single place. This combination delivers happiness and peace to a person.
Goddess takes away all the problems.
Worshipping Goddess Skandamata has excellent significance in Shastras. A worshipper can fulfill all his wishes by worshipping Goddess Skandamata. Worshippers receive peace. As she is the most powerful Goddess in the solar system, so her fierce energy is even more vital. Hence, worshipping this Goddess with a determined and pure mind can even give the ability to cross the great ocean to the worshipper.
Skandamata is the Goddess of love.
Kartikeya is believed to be Lords' commander, and Goddess Skandamata has utmost affection towards her son. Whenever the monsters start ruling the Earth, the Goddess rides on the lion and comes to the Earth to save her worshippers. Goddess Skandamata likes to get her name from her son. That is why she is believed to be the Goddess of love and motherhood.
Importance of the following ingredients for worshipping Goddess Skandamata
It is significant to offer a Dhanush Vana in Goddess Skandamata' Puja. She should also be offered a red dupatta, sindoor, nail paint, bindi, henna, red bangles, lipstick, and other stuff that a married woman uses. On the fifth day of Navratri, if a woman offers all the ingredients with red flowers to Goddess Skandamata, they are blessed with a long-married life and children. She has also been worshipped the same way as other forms of Goddess Durga.
Goddess Skandamata Puja Procedure
*Take a fresh bath in the morning and wear washed clothes on the fifth day of Navratri.
*Now, place the picture of Goddess Skandamata in the temple or worshipping place in your home.
*Purify yourself with Gangajal.
*Clean the Goddess's sculpture with water.
*Now, place some coins in the water in a Kalash.
*Read the determination for fast while reciting the mantras.
*Now apply Kumkum and Roli to the Goddess Skandamata.
*Dress the sculpture and feed her the food.
*Always offer banana to the Goddess Skandamata. It is believed that the Goddess Skandamata provides great health if you do so.
*Offer flowers to the Goddess.
*Spray Gangajal in every corner of the house.
*Read the Goddess's story to please her.
*Now worship her with a Diya.
*Distribute the Prashad to all the family members and eat it yourself as well.
Goddess Skandamata Aarti
Jai teri ho Skandamata
Panchava naam tumhara aata
जय तेरी हो स्कंदमाता
पांचवा नाम तुम्हारा आता
Sab ke man ki janan haari
Jag janni sab ki mehtaari
सब के मन की जानन हारी
जग जननी सब की महतारी
Teri jyot jalata rahoon mein
Hardum tumhe dhyara rahoon mein
तेरी ज्योत जलाता रहूं मैं
हरदम तुम्हे ध्याता रहूं मैं
Kayi naamo se tujhe pukara
Mujhe ek hai tera sahaara
कई नामो से तुझे पुकारा
मुझे एक है तेरा सहारा
Kahin pagadon par hai dera
Kayi shehron mein tera basera
कहीं पहाड़ों पर है डेरा
कई शहरों में तेरा बसेरा
Har mandir mein tere najare gun gaye
Tere bhagat pyare bhagti
हर मंदिर में तेरे नजारे गुण गाये
तेरे भगत प्यारे भगति
Apni mujhe dila do shakti
Meri bigdi bana do
अपनी मुझे दिला दो शक्ति
मेरी बिगड़ी बना दो
Indra aadi devta mil saare
Kare pukar tumhare dware
इन्द्र आदी देवता मिल सारे
करे पुकार तुम्हारे द्वारे
Dushta datya jab chadh kar aye
Tum hi khanda hath uthaye
दुष्ट दत्य जब चढ़ कर आये
तुम ही खंडा हाथ उठाये
Dason ko sada bachane aayi
'chaman' ki aas pujane aayi
दासो को सदा बचाने आई
'चमन' की आस पुजाने आई
Jai teri ho Skandamata
जय तेरी हो स्कंदमाता...
Offer Bhog to Goddess Skandamata
Goddess Skandamata likes bananas, and that is why you should offer bananas to her and then give the same to Brahmins (Pandits). Doing this will keep the worshipper in good health. You can also offer kheer and Meva as the bhog to Goddess Skandamata.
Puja Mantra
Om devi Skandamataaya Namaha
ओम देवी स्कन्दमातायै नमः॥
Prayer
Singhasangataa nityam padmaachit kardvayaa
Shubhadastu Sada Devi Skandamata Yashaswini
सिंहासनगता नित्यं पद्माञ्चित करद्वया।
शुभदास्तु सदा देवी स्कन्दमाता यशस्विनी॥
Stuti Mantra
Ya devi sarvabhooteshu man chadraghanta roopen sansthita
Namastasyay namastasyay namastasyay Namo Namha
Sarvada paatu ma devi Chanyanyasu hi dikshu vae
या देवी सर्वभू‍तेषु मां स्कन्दमाता रूपेण संस्थिता।
नमस्तस्यै नमस्तस्यै नमस्तस्यै नमो नमः॥
सर्वदा पातु मां देवी चान्यान्यासु हि दिक्षु वै॥
People suffering from Air, Phlegm, or Bile diseases should worship Goddess Skandamata and offer linseed to the Goddess to consume it afterward.
Shlok for Goddess Skandamata
To receive all the blessings from Goddess Skandamata, one should repeat these shlokas on the fifth day of Navratri to please the Goddess.
Ya devi sarva bhuteshu maa Skandamata rupen sansthita
या देवी सर्वभू‍तेषु माँ स्कंदमाता रूपेण संस्थिता।
Namastasyay namastasyay namastasyay namaho namaha
नमस्तस्यै नमस्तस्यै नमस्तस्यै नमो नम:।।
Arthaha hey maa sarvatra virajmaan aur Skandmata ke roop mein prasiddh ambey, main aapko barambar pranam karta/karti hun. Hey maa, mujhe sab paapon se mukti pradan karein.
अर्थ : हे माँ! सर्वत्र विराजमान और स्कंदमाता के रूप में प्रसिद्ध अम्बे, मैं आपको बारंबार प्रणाम करता / करती हूँ. हे माँ, मुझे सब पापों से मुक्ति प्रदान करें.
Is din sadhak ka man 'vishudh' chakra mein avasthit hota hai. Inke vigreh mein bhagwan skand ji bal roop mein inki god mein bethe hote hain.
इस दिन साधक का मन 'विशुद्ध' चक्र में अवस्थित होता है. इनके विग्रह में भगवान स्कंदजी बालरूप में इनकी गोद में बैठे होते हैं.
Is mantra mein dhyan laga kar krein mata ki araadhana.
इस मंत्र से ध्यान लगाकर करें माता की अराधना..
Vande vanchit kamarthe chandrardhkritshekhraam.
वन्दे वांछित कामार्थे चन्द्रार्धकृतशेखराम्।
Singhroodha chatubhurja Skandamata yashaswineem.
सिंहरूढ़ा चतुर्भुजा स्कन्दमाता यशस्वनीम्।।
Dhawalvarna vishudh chakrasthiton pancham durga trinetram.
धवलवर्णा विशुध्द चक्रस्थितों पंचम दुर्गा त्रिनेत्रम्।
Abhay padm yugma karaan dakshin uroo putradharaam bhajem.
अभय पद्म युग्म करां दक्षिण उरू पुत्रधराम् भजेम्॥
Pataambar paridhanan mriduhaasya nanalankaar bhooshitam.
पटाम्बर परिधानां मृदुहास्या नानांलकार भूषिताम्।
Manjeer, haar, keyoor, kinkini ratnakundal dharineem.
मंजीर, हार, केयूर, किंकिणि रत्नकुण्डल धारिणीम्॥
Prafull vandanaa pallavandhra kaant kapola peen payodharaam.
प्रफुल्ल वंदना पल्ल्वांधरा कांत कपोला पीन पयोधराम्।
Kamneeya lavanya charu trivali nitambneem.
कमनीया लावण्या चारू त्रिवली नितम्बनीम्॥
Maa Skandamata Story
The commander of Lords- Lord Kartikeya's mother is worshipped on the fifth day of Durga Puja. Karthikeya Kumar has been mentioned as Sanat Kumar and Skand Kumar in the ancient texts. Goddess is seen giving all her motherly affection when she takes the form of Goddess Skandamata. This form of Goddess is said to be the purest.
Whenever the evil spreads a lot, Goddess comes to the worshipper's saviour riding the lion to destroy the evil. Goddess Skandamata has four arms with a lotus in two of them and her son in another one, while the fourth one is believed to be blessing everybody.
Goddess Skandamata is the daughter of the Himalayas, and she is also known as Maheshwari and Gauri. She's called Parvati, being the daughter of Lord Himraj, Maheshwari being the wife of Lord Shiva, and Gauri for her fair skin. She has a dear love for her son and hence loves being called by her son's name. Anybody who worships this form of Goddess Durga Goddess treats them like her own son.
Goddess Skandamata has prayed a lot to get Lord Shiva as her husband, and hence one must always worship Lord Shiva when they're worshipping the Goddess, or otherwise, they won't receive Goddess's blessings.
One walks the path of peace when they worship Goddess Skandamata. With her blessings, great scholars and servants take birth. It is believed that Kalidas could create Raghuvansham and Meghdoot creations with Goddess's blessings only.
What can one get by worshipping Skandamata?
One could quickly get a child with Goddess Skandamata's blessings.

If there's an issue related to your child, Goddess can help with that too.

Always offer yellow flowers and other stuff to the Goddess Skandamata.

If you also wear yellow clothes, then you're sure to get the maximum benefit out of the Puja.

After this, one can make their wishes, especially the ones related to children.
What if the Vishudh Chakra is weak?
The Vishudh Chakra is right behind the throat.If it's weak, one's voice is comparatively weaker.One might stammer or even go dumb with this problem.This weakness can even lead to problems with the ears, nose, and neck.
You can read similar write-up on relevance of astrology in indian festivals, Chaitra Navratri, Popular Vrat dates for all other major Indian Festivals.