Lohri in 2023
14
January, 2023
(Saturday)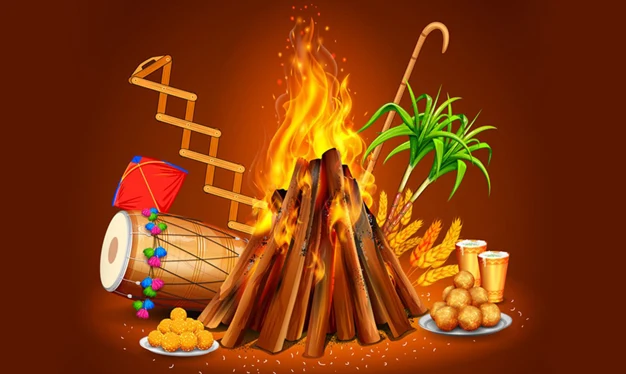 Lohri
Date :
Tuesday, January 14, 2020
Lohri Sankranti Moment :
02:22 AM, Jan 15
Know Here About The Lohri Festival Date 2021-22 | Celebrations & Traditions
13th January
Lohri
Date :
Wednesday, January 13, 2021
Lohri Sankranti Moment :
08:29 AM, Jan 14
Know Here About The Lohri Festival Date 2022-23 | Celebrations & Traditions
13th January
Lohri
Date :
Thursday, January 13, 2022
Lohri Sankranti Moment :
02:43 PM, Jan 14
Lohri
Date :
Saturday, January 14, 2023
Lohri Sankranti Moment :
08:57 PM
Lohri
Date :
Sunday, January 14, 2024
Lohri Sankranti Moment :
02:54 AM, Jan 15
Lohri
Date :
Monday, January 13, 2025
Lohri Sankranti Moment :
09:03 AM, Jan 14
Lohri
Date :
Tuesday, January 13, 2026
Lohri Sankranti Moment :
03:13 PM, Jan 14
Lohri
Date :
Thursday, January 14, 2027
Lohri Sankranti Moment :
09:14 PM
Lohri
Date :
Friday, January 14, 2028
Lohri Sankranti Moment :
03:26 AM, Jan 15
Lohri
Date :
Saturday, January 13, 2029
Lohri Sankranti Moment :
09:28 AM, Jan 14
Lohri
Date :
Sunday, January 13, 2030
Lohri Sankranti Moment :
03:36 PM, Jan 14
Lohri is majorly celebrated in Punjab and Haryana, but it is also observed worldwide. Along with Lohri, the festival of Pongal is also celebrated with great pomp. Let us first talk about Lohri. It is celebrated in different names in different parts of the Nation. Lohri is considered to be the new year for the farmers. Lohri takes place in the month of Posh, which comprises the winter season. Burning Alaav Shukun is offered in Lohri. Farmers get some time for themselves during this time. Wheat crops and sunflower seeds are at their fullest, which gives farmers hope and dreams. They are happy and excited about the harvest. There is happiness, new energy, mutual goodness, the victory of good over evil are prevalent on Lohri.
इस पेज को हिंदी में पढ़ने के लिए "लोहड़ी" पर क्लिक करें।
Along with Punjab, Lohri is celebrated in Haryana, Delhi, Himachal Pradesh, and Jammu Kashmir with pomp and show. In today's times, it is celebrated in other parts of India as well. Every year, Lohri is celebrated lavishly in Punjab, Haryana, Rajasthan, Uttar Pradesh, Delhi, Himachal Pradesh, Uttarakhand, and Jammu and Kashmir. As Lohri is essential for all the Punjabis, all the Punjabis living in India's different parts celebrate it with a lot of excitement. This festival is celebrated as Sindhi Lal Loi. In Punjab, Lohri is predominant, but it is also celebrated in Haryana, Delhi, and Himachal Pradesh.
For regular days We at Bajrangi Dhaam always perform a small Pooja ritual and Lohri celebration for selected followers & the overall prosperity of our large client base every 14th January in the evening around 8.15 pm.
When is Lohri Celebrated?
Lohri is celebrated during the onset of Vasant on January 13th January in the last night of the month of Posh, just like other the other seasons of summer, winter, autumn. People believe that Lohri symbolizes that the month of Posh (coldest month according to the Hindu Calendar) will end, and the month of Magh is going to start. That is why; some people call Lohri Maaghi Festival.
Religious Importance
It is believed that the Earth begins to face the Sun again on Lohri. This festival symbolizes happiness all around. It is celebrated in the first month ( January) of the year, which is also the coldest month in Punjab, Haryana, and Delhi. The farmer community celebrates it wonderfully with hopes and aspirations as their crops are ready for harvest during this time, for which they worked hard a lot. Lohri is burnt at night with the season's first wheat crop.
The Importance of the Lohri Festival
Lohri symbolizes the end of the Winter season. That is why; it is a seasonal festival that arrives during Makar Sankari towards the end of Winter. It is promising for farmers. We all know that Lohri is a Punjabi festival, and it is named after a Punjabi, Dulla Bhatti. There are many reasons for celebrating Lohri, which have been discussed in detail further. Although it is celebrated on January 13 with a lot of happiness, it is also observed when days become brief and nights are longer. It is called Pongal in Tamil Nadu, Bhogi in Andhra Pradesh, Makar Sankranti in Uttar Pradesh and Bihar, Bihu in Assam and Karnataka. Sindhi community celebrates this festival as Laal Koi, and Punjabis call it Lohri.
The History of Lohri
There are many reasons for celebrating Lohri according to various belief systems. According to Purana, it epitomizes the sacrifice of Sati every year. According to this story, Sati, KIng Daksh, insulted her husband, Lord Shiva, by not inviting him to a Mahyagya. Sati burnt herself in the same fire of the Mahaygya as a gesture of self-sacrifice. Hence, Lohri started being celebrated, and the married women are invited at home for meals. It is also called Dulla Bhatti.
There is another historical story of celebrating Lohri, and it is related to Akbar's rule. When Akbar ruled Punjab and adjoining areas, a person named Dulla Bhatti lived in Punjab. He believed that he was the Robinhood of the poor people and used to rob the rich people of their wealth to help the poor. He used to distribute the appropriated money among the needy. He also used to save Hindu women who were sold in the Gulaam Bazar by force. These women were married to Hindu men following all the Hindu rituals, and dowry was also given. Although Dulla Bhatti used to loot, he became the poor's hero for his contributions to their life. Hence, the songs of Lohri have his name, and Lohri commemorates his efforts. Some people also believe that Lohri is derived from the word Loi, the poet Kabir's wife's name. Lohri has also been taken from the phrase Loi, which is used to make Diyas.
How is Lohri Celebrated?
Although Lohri is a Punjabi festival, it is celebrated all over India with great pomp and show. Like every other festival, Lohri is also celebrated with happiness wherein all the family and friends are happy together. People distribute and exchange sweets such as jaggery, Revari, Sugar candies, and Til. They offer these items to the bonfire of Lohri. On this day, people keep religious ceremonies at home and seek God's blessings. According to the rituals, people eat Sarso Saag, jaggery, Gajak, Til, peanuts, etc., as Prasad. People wear novel clothes on this day and perform Bhangra. Farmers consider this day as their new year as it is the season of harvest. It is followed majorly in Punjab and Haryana. It is also the epitome of a new year.
1.Celebration Near Fire
On the eve of Lohri, people burn a bonfire made of wood and circle around them, dancing and singing. They offer revari, peanuts, corns to the fire and then sit near the fire, enjoying themselves.
2.Special Eatables
Gajak, revari, peanuts, til-jaggery laddoo, Corn chapatis, and Sunflower leaves are some of the essential eatables which people consume on Lohri. Before Lohri arrives, children sing Lohri songs while preparing for the festival. They collect woods, dry fruits, revari, and peanuts to be used on Lohri.
3.Festival of Newly-Wed Bride, Sister, and Children
Lohri holds particular importance for the Punjabi community. Places where weddings have taken place or birth has taken place, and good wishes are bestowed on such sites and people. The Lohri of newlywed woman and newly born child are essential. Women are treated well on Lohri and are invited at home.
4.Belief Behind Celebrating Lohri
It is believed that Lohri gets its name from Sant Kabir's wife Loi. It is also believed that Dulla Bhatti saved Sundari and Mundari named women from the king and got them married to decent men
5.Festival of Festivals
The festival of Baisakhi is also like Lohri and is celebrated in Punjab. It is also associated with the village and agriculture of Punjab. Carrot and Sugarcane crops are sowed during this time. Before that, Rabi crops are reaped and kept in the houses. Farms get embellished with sunflowers.
Contemporary Outlook of Lohri
People have changed their ways of celebrating Lohri. Earlier, they used to gift each other Gajak sweets. Now, they offer chocolates and cakes. People have adhered to social media and digital means to wish each other such as emails and WhatsApp. Bonfires are not made keeping in mind the environmental concerns. Now, people do not cut down trees and woods to set a Lohri bonfire to preserve Nature's essence. They celebrate it during the day now.
The story of Lohri
There many belief systems behind the festival of Lohri. However, the most prevalent is one that pertains to Dulla Bhatti. According to this story, Dulla Bhatti was a courageous soldier during the Mughal rule. An already married existing Mughal ruler wanted to forcefully marry the two beautiful daughters of a poor Brahman, Sundari, and Mundari. Dulla Bhatti helped these women to get rid of the ruler and got them married somewhere else. He also did kanyadaan. This story is narrated in different versions. Somwhere Dulla Bhatti is a courageous soldier during Akbar's rule somewhere he is a Bandit. But the commonality lies in the belief that he helped the two women like a father and got them married. The story of Dulla Bhatti is sung in the folk songs of Punjab.
The grace of Lohri Everywhere
On this day, everyone gets together and performs Bhangra and greets each other Lohri. Women dance on farms with new hopes and new dreams. They begin to get ready for the festival before it arrives. They apply henna on each other's hands. In Punjab, this festival holds particular importance for new brides and new borns. On this day, people eat revari, peanuts, corn chapatis, and sarson leaves. Irrespective of the city, since morning, people start praying in Gurudwaras. Parties happen in the evening, and people enjoy a lot. In Delhi, Punjabi pop songs are played. Markets begin to welcome Lohri before a fortnight. Peanuts, til laddoo, revari, gajak, everything begins to have availability in the markets. All these items are used in the form of prasad. It is called Tilchauli. These are burnt in the fire, and people pray to God for the ultimate blessings.
Tradition of Lohri
1. The story of Dulla Bhatti is narrated on Lohri as a traditional ritual. However, nowadays, it is done less.
2. Children visit houses, and they are given Tilchauli as a present.
3. Woods are collected and are burnt in the form of a bonfire on roads. These days, woods are bought.
4. Tilchauli is burnt in the Lohri fire as an offering.
5. People dance and revel among themselves. Men perform bhangra
Traditional song of Lohri
Sundar Sundar mundariye, hoye
Tera ki vichara, hoye
Dulla Bhatti Wala, Hoye
Dulle Di dhi Viyaai, Hoye
Ser Shakar Paai, Hoye