Krishna Janmashtami in 2023
06 September, 2023
(Wednesday)
to
07 September, 2023
(Thursday)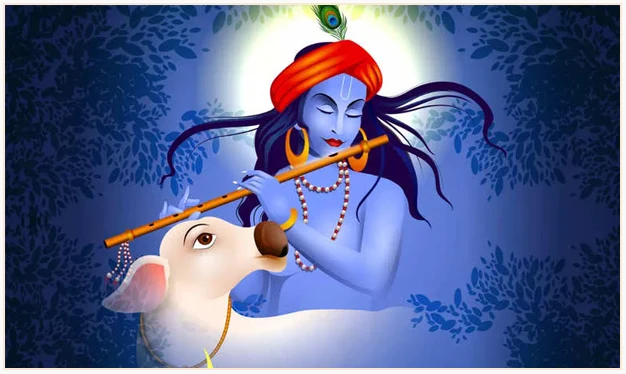 Krishna Janmashtami 2020
11th August
Krishna Janmashtami Puja Muhurat
Date :
Tuesday, August 11, 2020
Ashtami Tithi Begins :
09:06 AM on Aug 11, 2020
Ashtami Tithi Ends :
11:16 AM on Aug 12, 2020
Janmashtami 2021-22: Date, Time and celebration of Krishna Janam Utsav
30th August
Krishna Janmashtami Puja Muhurat
Date :
Monday, August 30, 2021
Ashtami Tithi Begins :
11:25 PM on Aug 29, 2021
Ashtami Tithi Ends :
01:59 AM on Aug 31, 2021
Janmashtami 2022-23: Date, Time and celebration of Krishna Janam Utsav
18th August - 19th August
Krishna Janmashtami Puja Muhurat
Date :
Thursday, August 18, 2022
Ashtami Tithi Begins :
09:20 PM on Aug 18, 2022
Ashtami Tithi Ends :
10:59 PM on Aug 19, 2022
Krishna Janmashtami 2023
6th September - 7th September
Krishna Janmashtami Puja Muhurat
Date :
Wednesday, September 6, 2023
Ashtami Tithi Begins :
03:37 PM on Sep 06, 2023
Ashtami Tithi Ends :
04:14 PM on Sep 07, 2023
Krishna Janmashtami 2024
26th August
Krishna Janmashtami Puja Muhurat
Date :
Monday, August 26, 2024
Ashtami Tithi Begins :
03:39 AM on Aug 26, 2024
Ashtami Tithi Ends :
02:19 AM on Aug 27, 2024
Krishna Janmashtami 2025
15th August - 16th August
Krishna Janmashtami Puja Muhurat
Date :
Friday, August 15, 2025
Ashtami Tithi Begins :
11:49 PM on Aug 15, 2025
Ashtami Tithi Ends :
09:34 PM on Aug 16, 2025
Krishna Janmashtami 2026
4th September
Krishna Janmashtami Puja Muhurat
Date :
Friday, September 4, 2026
Ashtami Tithi Begins :
02:25 AM on Sep 04, 2026
Ashtami Tithi Ends :
12:13 AM on Sep 05, 2026
Krishna Janmashtami 2027
25th August
Krishna Janmashtami Puja Muhurat
Date :
Wednesday, August 25, 2027
Ashtami Tithi Begins :
08:24 PM on Aug 24, 2027
Ashtami Tithi Ends :
07:19 PM on Aug 25, 2027
Krishna Janmashtami 2028
13th August
Krishna Janmashtami Puja Muhurat
Date :
Sunday, August 13, 2028
Ashtami Tithi Begins :
04:42 AM on Aug 13, 2028
Ashtami Tithi Ends :
05:36 AM on Aug 14, 2028
Krishna Janmashtami 2029
1st September
Krishna Janmashtami Puja Muhurat
Date :
Saturday, September 1, 2029
Ashtami Tithi Begins :
09:00 PM on Aug 31, 2029
Ashtami Tithi Ends :
10:56 PM on Sep 01, 2029
Krishna Janmashtami 2030
21st August
Krishna Janmashtami Puja Muhurat
Date :
Wednesday, August 21, 2030
Ashtami Tithi Begins :
05:31 PM on Aug 20, 2030
Ashtami Tithi Ends :
08:00 PM on Aug 21, 2030
Lord Vishnu got incarnated in Krishna's form in the midnight Rohini Nakshatra on the Ashtami of Krishna Paksha of Bhadrapada month to release the Earth from sin. Janmashtami is considered the birthday of Lord Krishna; this festival is celebrated with full faith and devotion worldwide. Sri Krishna has been the epicenter of our faith for ages. He is sometimes the son of Mother Yashoda, and sometimes is the naughty Gopal of Braj. This festival's enthusiasm is seen throughout India's year; its preparations begin grandly even before its arrival. The ambiance everywhere gets involved deeply in the colors of Lord Krishna. Janmashtami is celebrated with complete faith and reverence. Considering the Srimad Bhagavat as proof, the followers of Smaart Sampradaya celebrate Janmashtami on Chandrodaya Vyapani Ashtami, i.e., Rohini Nakshatra, and the Vaishnavites celebrate Janmashtami on the Udayakal Vyapani Ashtami and Udayakal Rohini Nakshatra. Janmashtami has different forms, and this festival is celebrated in different ways. There is a Holi of colors, somewhere there a celebration of flowers and the fragrance of it. And somewhere, Dahi Handi is enthusiastically celebrated, and somewhere, we get to witness the enticing impressions of Lord Krishna's life. Temples are decorated uniquely. Devotees observe fast on this occasion. On this day, temples are decorated with Jhanki, and Lord Krishna is made to swing, and various Krishna Rasleela is organized.
इस पेज को हिंदी में पढ़ने के लिए "कृष्ण जन्माष्टमी" पर क्लिक करें।
During Janmashtami's auspicious occasion, devotees from far off places visit Mathura for Darshan of Lord Krishna. Temples are specially decorated. All the temples of Mathura are decorated with colorful lights and flowers. Millions of Krishna devotees reach not only from the country but also from abroad to witness the Sri Krishna birth anniversary organized on Janmashtami in Mathura. By offering turmeric, curd, ghee, oil, rose water, butter, saffron, camphor, etc., to the Lord's Vigrah, people sprinkle it on each other. On this day, temples are decorated with Jhanki, and Lord Krishna is made to swing, and Rasleela is organized. The devotee attains Moksha by observing Janmashtami fast as per all the rules and regulations. This fast is for fulfilling wishes. This holy festival of Sri Krishna's devotion fills everyone with Krishna Bhakti. This Upvas is believed to be essential for the followers of Sanatan Dharma. On this day, fasts are observed, and people listen to the songs of Krishna Bhakti. Jhanki of Sri Krishna-Leela is decorated in the domestic worshipping place and temples.
Importance of Janmashtami
Sri Krishna Janmashtami has particular importance nationwide. It is one of the pivotal festivals of Hinduism. Lord Sri Krishna is considered to be the eighth Avatar of Hari Vishnu. This festival s followed in various states in various ways. From children to elders, everyone observes fast happily for the whole day to mark the birth of their Aradhya and appreciate the glory of Lord Krishna. All the temples re adorned on this day. On the occasion of Sri Krishna Avatar, Jhanki is decorated. Lord Sri Krishna is adorned, and swings are decorated, and Lord Krishna is made to swing on it. Women and men observe fast at midnight. At midnight, at night, the news of Sri Krishna's birth echoes everywhere through the sound of bells and Shankh. Sri Krishna Aarti takes place, and Prasad is distributed.
History of Krishna Janmashtami
It is believed that one crucial reason for Sri Krishna's Avatar was to kill Kansa. Kansa had a sister, Devaki. She was very dear to Kansa. When Kansa was returning after getting his sister married, then a sound came from the sky saying, "Oh Kansa, the eighth child who will arrive in the womb of your dear sister, will be the reason for your death." That is why Kansa imprisoned his sister. The moment Devaki would give birth to any child, Kansa would immediately kill that child. When Devaki Ji gave birth to the eighth child, Sri Krishna, all the prison locks were broken by Lord Vishnu's Maya, and Lord Krishna's father Vasudeva left him in the palace of Gokul. A girl was born there. That girl was Yoga Maya incarnate. Vasudeva came back to the prison Vasudeva by bringing that girl. Kansa saw that girl, and with the desire to kill her, he threw her on the floor. The moment she was thrown down, that girl jumped in the air and said, "Kansa, your Kaal has left this place. It will destroy you after some time. I am just a Maya." After some years, this only happened. Lord Sri Krishna came to the same palace and killed Kansa.
Importance of Peacock Feather on Sri Krishna's Head
A king is responsible for all his subjects. He bears the weight of these responsibilities on his head in the form of a crown. But, Sri Krishna fulfilled all his duties effortlessly, like a game. Just like a mother does not consider it a burden to take care of her children. Similarly, Sri Krishna does not believe his responsibilities as a burden. He carries these responsibilities with various colors very quickly on his head in the form of a peacock crown (which is also very light). Sri Krishna is an attractive and blissful flow in all of us. When there is no restlessness, worry, or desire in mind, only then can we get deep rest, and in deep rest, only Sri Krishna is born.
How is Janmashtami Celebrated
Janmashtami is celebrated differently in various places. Many places celebrate it as Holi of flowers, and along with it, Holi of colors is also played. Janmashtami is celebrated with immense joy and enthusiasm in Mathura, the city of Sri Krishna's birth. Sri Krishna liked butter and milk because he used to have the village's butter, which he used to steal. One day to stop him from stealing Makhan, his mother Yashoda had to tie him to a pillar, and for this reason, Lord Krishna was named Makhan Chor. In Vrindavan, the women started hanging the matki of the stirred butter at a height so that the hand of Krishna could not reach there. Still, in front of the naughty Krishna's understanding, their plan also proved to be futile, to steal Makhan, Shri Krishna made a plan with friends, and together they stole the curd and Makhan from Matki, which hanging at a height. It is from here that the festival of Dahi-Handi began.
The meaning of Sri Krishna's Other Name- "Makhan Chor."
Sri Krishna is also celebrated in the form of Makhan Chor. Milk is the source of nutrition, and curd is a refined form of milk. When the curd is stirred, butter is made and floats above. This is no just heavy but is light and healthy. When our intellect is awakened, it becomes like butter. Then there is a rise of knowledge in the consciousness. And an individual gets established in his self. Being in the world, he remains unattached; his consciousness is not disappointed by the world's words and behavior. Makhanchori symbolizes the depiction of the glory of Shri Krishna's love. The charm and skill of Sri Krishna are so deep that he steals even the most patient person's consciousness.
What is the belief behind Dahi-Handi?
The belief behind celebrating Dahi-Handi is that Lord Krishna loved butter. In his child incarnate, he used to steal butter from a neighbor's home. Hence, he began to be known as "Makhan Chor." Lord Krishna used to steal Makkhan from everyone's houses, which caused many troubles to Mother Jashoda. For this, Mother Yashoda advised all the neighbors to tie their dahi-handi at a height. But still, Lord Krishna manages to reach the Handi by forming a human chain with his friends and break the Handi and divide it among themselves. Due to this, the festival of Dahi-Handi is celebrated at many places on Janmashtami. This tradition is marked with a lot of enthusiasm. People hold the Dahi- handi competition in their streets; then people climb up in bulk to break Matki's program. This tradition is mainly witnessed in India in the states of Gujarat and Maharashtra.
The importance of Rohini Nakshatra on Janmashtami
Lord Krishna was born on the Ashtami of Krishna Paksha of Bhadrapada in Rohini Nakshatra. Due to this Tithi falling in Rohini Nakshatra, it is known as Krishna Janmashtami. Now since Lord Krishna was born in Rohini Nakshatra, the positioning of Rohini Nakshatra is given importance in determining Janmashtami.
Birthday Celebrations happen at 12 on Janmashtami.
As per the Tithi, Lord Krishna was born at midnight on the Ashtami of Krishna paksha of Bhadrapada, so in the houses and temples, at midnight, Lord Krishna's birth anniversary is celebrated. After bathing the idol of Laddu Gopal with milk after birth at night, Sri Krishna is dressed in new and beautiful clothes, and he is adorned. Then, he is placed in the cradle, and then after Puja, he is offered charanamrit, panjiri, fresh fruits, panchmeva, etc., which is distributed as Prasad.
Janmashtami Festival is Fruitful in Having Children
The festival of Janmashtami is celebrated traditionally. People observe fasts and perform Puja. It is a belief that all desires can be fulfilled by celebrating this festival. People whose moon is weak can be benefitted on this day by doing special Puja. On this day, by performing Sri Krishna Puja, people can be blessed with children, long-life, and happiness-prosperity.
Every Wish Gets Fulfilled by Swinging on Janmashtami
There is a belief that keeping fast on this day might help get the fruits of several fasts. In our Shastras, Krishna Janmashtami is said to be the king of fasts, that is, "Vrat Raja." As per religious beliefs, there is the immense importance of making Baal Gopal swing, and people are enthusiastic about making Lord Krishna swing. If a person makes the Lord swing in a cradle, all his/her wishes are fulfilled.
How to keep the fast of Janmashtami
On Janmashtami's occasion, devotees observe fast for the whole day and seek God's blessings; they perform special Puja. Keeping Janmashatami Upvas has its regulations. People who wish to keep Janmashtami Upavs should consume food only one time before one day of Janmashtami. After bathing in the morning of Janmashtami, the devotees pledge the Sankalp of the fast and open the Upvas, that is, fast after the end of Rohini Nakshatra and Ashtami Tithi on the next day.
Rules of Janmashtami Puja
There is a rule of worshipping Lord Sri Krishna on Janmashtami. If you are also observing Janmashtami fast, then worship Lord Sri Krishna in this manner.
Wear clean clothes after a morning bath

On Janmashtami, sthapana of Bal Krishna take place (Thakurji or Laddu Gopal). You can perform the sthapana of Krishna Ji in any form as per your wish.

Further, in the temple of the house, perform the bathing the idol of Krishna Ji or Thakur Ji with Gangajal first.

After this, perform the idol's bathing with panchamrit of milk, curd, ghee, sugar, honey, and saffron.

Now, perform the bathing with pure water. It is written in Shastras that bathing with Shankh is excellent.

Make him wear new clothes, make him wear yellow colored clothes and adorn him.

The swing of Sri Krishna is decorated with flowers. For this, you can decorate with Parijaat and Vaijyanti flowers. After the birth of Krishna, he is made to swing.

For the bhog of Sri Krishna Ji, prepare panchamrit and add Tulsi leaves, Mewa, Maakhan, and Mishri. As per your potential, you can make coriander panjiri and offer 56 bhog.

Fast should be done with patience and by following rules as far as possible. Unwell people should not keep fast.

Lord Krishna's birth celebrations should be observed at midnight. The whole night should be spent by staying awake, and Bhajan-kirtan should be performed.

Worship Laddu Gopal at midnight by offering him Bhog and then perform Aarti.

Consume Anna in the morning the next day. If someone wishes to have meals before then, he/she can do so after celebrating Lord's birth anniversary and having Prasad, etc., at midnight.

This Krishna Janmashtami fast is meant to destroy all the sins. By following it with all rules and with patience helps in acquiring spiritual happiness in Indralok Parlok.
The Myth behind Janmashtami
Towards the end of Dwaparyuga, King Ugrasen ruled in Mathura. The name of Ugrasen's son was Kansa. Kansa forcefully became the king himself by forcefully dethroning Ugrasen and putting him in prison. Kansa's sister Devaki's marriage got fixed with Vasudev in the Yadav clan. When Kansa was bidding farewell to Devaki with a Rath, then Akashvaani happened, "Oh Kansa! The eight son of Devaki whom you love so much will kill you". By listening to the words of Akashvaani, Kansa got filled with anger and got ready to kill Devaki. He thought- Neither Devaki will be there, nor she will have any son. Vasudeva made Kansa understand that he need not be afraid of Devaki. Devaki's eighth child might be a cause of fear. Hence, I will hand over her eighth child to you. Kansa accepted Kansa's words and put Vasudeva-Devaki in prison. Immediately Narada Ji reached there and said to Kansa how it would be known which would be the eighth womb and how the counting would start, from the first or the last pregnancy. On Narada's advice, Kansa mercilessly killed all the children born from Devaki's womb one by one.
The birth of Sri Krishna happened on the eighth day of Krishna Paksha during the month of Bhadrapada in the Rohini Nakshatra. The moment he was born, the light got spread in prison. In front of Vasudev-Devaki, the four-armed God holding shankha, chakra, Gada, and lotus flower manifested his form and said, now I take the form of a child. You immediately take me to Nanda's in Gokul and hand over the girl who has just been born to him. Vasudeva did the same and handed over that girl to Kansa. When Kansa desired to kill that girl, she got away from his hands and flew in the sky. She took the form of Goddess and said, "What is the use of killing me? Your enemy has reached Gokul". By witnessing this sight, Kansa got shocked and became anxious. Kansa sent many demons to kill Sri Krishna. Sri Krishna killed all of them through his Alokik Maya. On getting old, he killed Kansa and made Ugrasen sit on the throne.
Why Lord Krishna is offered 56 Bhog
There is a custom of offering 56 bhog to Lord Krishna on Janmashtami. Religious belief is that Lord Krishna is happy with fifty-six Bhog, and all the devotees' wishes are fulfilled. Come, let us know the reason behind 56 Bhog-
When Lord Krishna lived with Nanda Lal and his mother Yashoda in Gokul, his mother used to feed him with her hands eight times a day. Once, the Brajwasi were organizing a big ceremony to worship Indra, the king of heaven. Krishna asked Nanda Baba what the reason behind the ritual is. Then, Nanda Baba said that Devaraj Indra would be pleased by this Puja, and he would send heavy rains. Krishna Ji said that sending showers is Indra's responsibility, so why he needs to be worshipped. If Puja is to be performed, worship Govardhan Mountain as we acquire fruits and vegetables, and animals get their fodder. Then, everyone liked Krishna's advice, and everyone started worshipping Govardhan instead of worshipping Indra. Indra Deva considered this as an insult, and he got angry. Angry Indra sent too heavy rains to Braj, and water could be seen everywhere. The Brajvasi got afraid by witnessing such a scenario, then Krishna said to them, "Let us go under Govardhan's shelter. Only he can protect us from the wrath of Indra." Krishnaji lifted the entire Govardhan mountain with his little finger protected the Braj as a whole. Lord Krishna kept holding Govardhan Mountain for seven days without eating anything. When the rain stopped on the eighth day, and all the Brajwasi came out, and after that, everyone thought that Krishna protected us by holding up the Govardhan Mountain for seven days without eating anything.
Then, mother Yashoda prepared 56 kinds of delicious dishes for Kanhaiya and Brajvasi daily for eight Pahar, including seven days. Chappan Blog comprises the delicacies which are liked by Kanhaiya. Many devotees offer 20 kinds of sweets, 16 types of Namkeen, and 20 types of dry fruits. Commonly, Chappan bhog comprises Makhan mishri, Kheer, Almond milk, Tikki, Cashews, Pista, Rasgulla, Jalebi, Ladoo, Rabri, Mathri, Malpua, Mohanbhog, Chatni, Moon Daal Halwa, Pakora, Khichdi, Brinjal vegetable, Bottle gourd vegetable, Puri, Murabba, Saag, Curd, Rice, cardamom, pulses, Kadhi, Ghevar, the chilla, and papad. Regarding 56 bhog, another belief is that in Go Lok, Lord Sri Krishna sits with Radha Ji on a divine lotus. That lotus has three layers. The first layer has eight, and the second layer has sixteen, the third layer has thirty-two petals. There is one pivotal Sakhi on each petal, and God sits in the middle. This way, there are 56 petals in number. Here, 56 number has this meaning only. Hence, Lord Krishna gets satisfied by 56 Bhog in the company of his sakhis.
Why Janmashtami fast is observed?
Lord Sri Krishna is worshipped by observing fast on Janmashtami. The fast is followed so that while worshiping God, our conscious, body, and thoughts, all three remain pure. When Puja is performed with clear conscious and noble thoughts, then that bestows inner peace to us. The importance of keeping a fast on Janmashtami is not just related to Krishna's birth, and there are four primary reasons.
1) Ashtami Tithi. Ashtami Tithi is also known as Jaya Tithi, meaning the Tithi of winning the hearts. On this day, worshipping the Lord by observing fast, victory is achieved in all the endeavors.
2) Shiva is the Lord of Ashtami Tithi, and on this day, Lord Vishnu also took Avatar. This is the worship day of two major Gods.
3) The body gets purified by being on a non-vegetarian or just fruit diet, not eating food. During fasting, worldly thoughts do not come to the mind, and the conscious remains with God.
4) Imbibe the knowledge of Lord Sri Krishna in your life. Imbibing knowledge without purifying oneself is not possible. Therefore, on this day, one should renounce food and stay away from feelings like untruth, material pleasures, and violence.
Janmashtami is celebrated in Foreign Countries Too.
Not only in India but also Indians living abroad and people of the Indian community celebrate Janmashtami with full devotion and enthusiasm. In Mathura prison, Sri Krishna was born at midnight in Mata Devaki's womb to destroy his wrathful maternal uncle, Kansa. In this context, this day is considered the day of Lord Krishna's incarnation on the Earth. Various grand events are organized on this day in foreign countries also.
Pomp and show happen in Mathura on Janmashtami.
On the holy ceremony of Sri Krishna Janmashtami, devotees from far- fetched places reach Mathura today to witness the glowing image of Lord Kanha. On the birth anniversary of Sri Krishna, the entire city Mathura of Braj gets engrained in the Krishna consciousness. Hence, on the occasion of Krishna Janmashtami, the town of Mathura gets enlightened by the colors of devotion.
The Decoration of Jhanki on Janmashtami
People celebrate the holy festival of Janmashtami with excitement and enthusiasm. Along with the Puja and fast, jhanki are also decorated in homes and temples on this day. The illustrations of these jhanki are from Sri Krishna's childhood pastimes and the entire lifespan. Since God was born in prison, many police lines decorate the beautiful jhanki of God even today. Apart from this, people install beautiful jhanki in their homes.
Include these items in Janmashtami Puj

a
1. Tulsi Puja Has Special Importance
Tulsi Puja has a special significance on the day of Janmashtami. According to Shastras, on this day, in the evening, it is beneficial to lighten up Diya by putting ghee in it along with worshipping Tulsi. If you do not have the Tulsi plant at home, then go to a temple and lighten up a Diya. Never worship the Tulsi of somebody else's house.
2. Inclusion of Betel leaf is Auspicious
On Janmashtami, in Krishna Puja, betel leaf has special significance. It is believed that including betel leaf in the Puja lets us receive Goddess Laxmi's special blessings. According to astrologers, in Puja, write 'Om Vasudevaya Namah' on one betel leaf and offer it to Sri Krishna. The Puja is fruitful by doing this.
3. Janmashtami Puja is incomplete without Maakhan
Nanda's lal Gopal is hugely fond of Maakhan. Hence, do remember to include Maakhan in the Puja. In his child form, he used to steal maakhan from Gopis as he was fond of Maakhan. Hence, in the Puja of Nand Lal, do include Maakhan-Mishri in the form of Bhog.
4. Peacock feathers are also necessary
Lord Krishna puts on a peacock feather on his head always. Peacock feather increases the beauty of His head and is a part of his adornment. Hence, do offer peacock feathers to Lord Krishna in Janmashtami Puja.
5. Special Importance of Parijat flowers in Puja
Lord Shri Hari Vishnu and Mother Lakshmi are incredibly fond of Parijat flowers, and Krishna Ji is Vishnu's incarnation. Hence, Parijat flowers must be included in the Puja on the day of Janmashtami.
6. Worship will be incomplete without Bansuri
Lord Krishna loves Bansuri. After listening to his flute's tune, the gopis used to get happy and leave all their work and go to Krishna. The photo of Krishan is also incomplete without Bansuri. Offer silver Bansuri to Krishna Ji on Janmashtami. Simultaneously, after the Puja, keep the Bansuri in the purse or place where the money is placed.
7. Ask for the wow of Protection through Rakhi
The festival of Rakshabandhan is extraordinary. From the day of Rakshabandhan to the eighth day, Rakhi can be tied. Hence, tie Rakhi to Lord Krishna and his elder brother, Balrama, on the day of Janmashtami. Through this, you will receive Lord Krishna's special blessings.
8. Perform Abhishek in Shankh with Milk
Perform Abhishek of Lord Sri Krishna's child form by taking milk on Janmashtami. Your wishes will be fulfilled.
9. The idol of the calf removes troubles
Krishna Ji is adorably known as Gwala. In his childhood, Lord Sri Krishna has done many Leela with cows and calves. Hence, bring small idols of cows and calves on the day of Janamashtami. Through this, economic difficulties and issues related to children are solved.
What should be done and what should not be done on Janmashtami
What should be done on this day?
It is a belief that before Janmashtami fast, eat simple food the night before and the next day, Brahmacharya should be fully observed.

On the day of fast, after getting up in the Brahma Muhurta and after bathing, one should meditate on Lord Krishna.

After the Lord's meditation, take Sankalp of his fast, and you should start the Puja preparations.

On this day, offer the Bhog of Makhan-Mishri, betel leaves, coconut made sweets to Lord Krishna

This Manta must be recited by taking water, flowers, Gandh, fruits, Kush in the hands:
Mamkhilpaaprashamanpurvak Swabhisht Siddhaye
Sri Krishna Janmashtami Vratmaham Karishye.
Perform the birth of the Lord at midnight. After that, do his Abhishek through Panchamrit. Make him wear new clothes and adorn him

Do Lord's Tilak by Chandan and offer Bhog to Him. Tulsi should be added in his Bhog for sure.

Krishna should be made to swing by saying Nanda Ke Anand Bhayo Jaya Kahnaiya Laal Ki

Perform Lord Krishna's Aarti by Diya made of ghee and incense sticks and sing his Mangal Bhajan for the entire night.
Do not do like this on Janmashtami.
A person who is to observe fast on Janmashtami should practice good behavior before one day only. Those who do not keep Upvas should avoid garlic, onion, brinjal, meat-alcohol, betel leaves- nuts, and tobacco. The fasting person should start meditating about Lord Krishna and distance oneself from sexual feelings, luxury, etc. Also, one should stay away from consuming Mool and Masur lentils. Do not let negative essence enter.
Decorate the Puja Place with flowers on Janmashtami
To decorate the small temple or place of worship present in your house, you can use flowers. Instead of decorating with ordinary marigold flowers, you can use chameli and mogra flowers to decorate your worship place as Lord Krishna loves these flowers a lot. If you wish, you can make a vast garland of these flowers and decorate it on the swing of Baal Gopal.
Decorate the Puja Place with Colorful Lights on Janmashtami
Apart from flowers, if you wish, you can also give Puja place and the temple an excellent outlook by decorating them with colorful lighting and lights. Red, green, blue, yellow, white, whatever color you like, install that color in the form of wired lightings in your place of worship and temple and wonderfully decorate them.
Make Rangoli on Janmashtami
If you make Rangoli only on Diwali at home, try making it on Janmashtami this time. Yes, making Rangoli for welcoming someone has been our centuries-old tradition as Indians. Keeping this in mind, this time, if you wish, you can decorate the house and temple by making a rangoli on the main door of your home and in the place of worship on the occasion of the birth anniversary of Lord Krishna.
You can read similar write-up on relevance of astrology in Indian Festivals, Shubh Muhurat, popular Vrat dates for all other major Indian Festivals.