Holi 2022-23: To know Date, Significance and Lord Krishna's Connection
Holi in 2022
18
March, 2022
(Friday)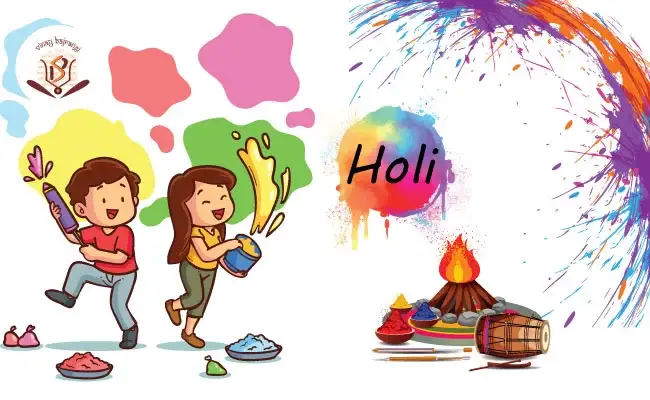 Holi 2021-22: To know Date, Significance and Lord Krishna's Connection
29th March
Rangwali Holi | Dhulandi Timings
Date :
Monday, March 29, 2021
Purnima Tithi Begins :
03:27 AM on Mar 28, 2021
Purnima Tithi Ends :
12:17 AM on Mar 29, 2021
Holi 2022-23: To know Date, Significance and Lord Krishna's Connection
18th March
Rangwali Holi | Dhulandi Timings
Date :
Friday, March 18, 2022
Purnima Tithi Begins :
01:29 PM on Mar 17, 2022
Purnima Tithi Ends :
12:47 PM on Mar 18, 2022
Rangwali Holi | Dhulandi Timings
Date :
Wednesday, March 8, 2023
Purnima Tithi Begins :
04:17 PM on Mar 06, 2023
Purnima Tithi Ends :
06:09 PM on Mar 07, 2023
Rangwali Holi | Dhulandi Timings
Date :
Monday, March 25, 2024
Purnima Tithi Begins :
09:54 AM on Mar 24, 2024
Purnima Tithi Ends :
12:29 PM on Mar 25, 2024
Rangwali Holi | Dhulandi Timings
Date :
Friday, March 14, 2025
Purnima Tithi Begins :
10:35 AM on Mar 13, 2025
Purnima Tithi Ends :
12:23 PM on Mar 14, 2025
Rangwali Holi | Dhulandi Timings
Date :
Wednesday, March 4, 2026
Purnima Tithi Begins :
05:55 PM on Mar 02, 2026
Purnima Tithi Ends :
05:07 PM on Mar 03, 2026
Rangwali Holi | Dhulandi Timings
Date :
Monday, March 22, 2027
Purnima Tithi Begins :
06:21 PM on Mar 21, 2027
Purnima Tithi Ends :
04:13 PM on Mar 22, 2027
Rangwali Holi | Dhulandi Timings
Date :
Saturday, March 11, 2028
Purnima Tithi Begins :
10:20 AM on Mar 10, 2028
Purnima Tithi Ends :
06:35 AM on Mar 11, 2028
Rangwali Holi | Dhulandi Timings
Date :
Thursday, March 1, 2029
Purnima Tithi Begins :
02:04 AM on Feb 28, 2029
Purnima Tithi Ends :
10:39 PM on Feb 28, 2029
Rangwali Holi | Dhulandi Timings
Date :
Wednesday, March 20, 2030
Purnima Tithi Begins :
02:02 AM on Mar 19, 2030
Purnima Tithi Ends :
11:25 PM on Mar 19, 2030
Holi is a festival in which people burn their ego and flaws in the sacred fire and celebrate the win of good over evil. People in India celebrate this festival with excitement and pour different colours on each other that is why it is known as the festival of colours. One day before Holi, Holika Dehen (Kamudu Pyre) takes place and this is also called Chotti Holi. People of Mathura start celebrating Holi one week prior to the festival and it is one of the most famous festivals in India. Tourists from all around the world come to watch this auspicious occasion in Mathura. Apart from this, Barsana is famous for Lathmaar Holi that includes using a thick wooden stick to hit husbands. It is one of the most popular forms of celebrations among Indians. According to Hindu Panchang, the festival Holi arrives in Chaitra Month(March-April) during the fortnight between the full moon and new moon also called Krishna Paksha. If Krishna Paksha's is repeating for two days then the first day is celebrated as Holi or Spring Festival (also called Dhulandi). This festival marks the arrival of the spring season. Spring is the season of colours and it is portrayed by using different colours in Holi.
इस पेज को हिंदी में पढ़ने के लिए "होली" पर क्लिक करें।
Importance of Holi Festival
Holi is one of the most important festivals for Hindus. However, not only Hindus but people from different backgrounds and religion enjoy this festival and celebrate it with excitement. With enthusiasm, exaltation and joy this festival also establishes brotherhood and is an essential part of the Indian heritage. One day before Holi, Holika Dehen is conducted in different places and it is marked by spreading happiness using gulal. It portrays that no matter how powerful evil is, it can never triumph over the good. The festival of Holi marks that good will always win over evil. On the first day, only Holika Dehen occurs and the next one is followed by playing and spreading colours all over. It is also known as Rangawali and Dhulandi. People burn their ego, evils and many other negative traits in the sacred fire of Holika and then follow it by wishing each other happy holi.
According to the legendary beliefs, Holika, the sister of Hirankashyap, who was blessed to not burn or get harmed with fire, sat on fire with the supreme devotee of Vishnu, Prahlad. However, in the end, nothing happened to Prahlad but the evil sister Holika, died in the fire. Many women on this day pray to god for bringing peace and prosperity in their family and also to get the blessing of a child. Preparations for Holika dehen starts almost one month before the Holi. People collect thorn bushes and wooden sticks to use at the auspicious time of Holika dehen.
History of Holi
The term Holi is not a new concept. In fact, in the ancient Vijayanagar empire's capital Hampi, you can find an example of Holi engraved in their 17th-century art. Similarly, in Ramgarh, which is situated near the Vindhya mountains, you will find Holi mentioned in 300 years to christ old records. It is one of the most ancient festivals of India and was celebrated as Holaka or Holika. Because it is celebrated in the spring season, Holi is also called the spring festival or kaam festival. Historians believe that Holi is also mentioned in Aayaren (आयरें), however, it is mostly celebrated in North India. This festival is described in various ancient religious texts. Out of these, the most significant one is the pre-epistemology of Gemini and Katha Ghari-Sutra. Narada mythology and Future Mythology books consist of manuscripts and texts that clearly mention Holi. It is also described in the old records almost 300 years to Christ in Ramgarh situated in the Vindhya region. In Sanskrit literature spring season and spring festivals are the favourite topics of many writers. The famous Muslim tourist Alberuni has mentioned Holi in his historical travel memoirs. Many Indian Muslim poets have described Holi in their compositions. Holi is not just a Hindu festival, many Muslims celebrate this festival as well. You will get the proof in all the historical pictures.
Holika Dahan
We all know that every festival has its own colour which we usually term as happiness or glee, however; there is a festival that includes actual colours like green, yellow, pink and red celebrated especially by all Hindus around the world. It is the festival of colours Holi in which people eliminate all kinds of differences prevailing in society by putting colours on each other. On the other hand, Holi plays a significant role as a religious form. It is said that on this day, Hirankashyapu tried to kill his own son who was a supreme devotee of Lord Vishnu with the help of his sister Holika. However, it was the blessing of god that instead of Prahlad, Holika died in the fire. That is why this day people celebrate Holika Dehen. The next day people use colours and water to celebrate Holi and it is known as Rangwali Holi and Dulhandi (रंगवाली होली और दुलहंडी).
Why do we celebrate Holi?
Holi is a part of an ancient tale and according to that in ancient times the king of persecutor demons, Hirankashypu with Tapasya got a vardan from Lord Brahma that in this world no human, God or demons can kill him, he cannot die at night or during the day, not on earth neither in the sky nor in the house or outside and no weapon can kill him. After receiving this vardan, he lost his control and humanity. After some time, Hirankapshyap had a son and he named him Prahlad. His son was the total opposite of his father and put his unwavering faith in God. Hirankashyapu ordered Prahlad to not worship anyone else except his own father. When Prahlad said no, his father wanted to kill him. Hirankashyapu thought of many ways to kill his son but Prahlad was always saved due to the blessings of God. Hirankashyapu with his sister, who had a vardan that no fire can harm her, planned on killing Prahlad. Holika took Prahlad on her lap and sat in the fire. With God blessings Prahlad was not harmed by the fire, however, it consumed Holika and she died. After this, to kill Hirankapshyapu, Lord Vishnu in Narsingh Avatar came out of the pole and appeared at the twilight. Narsingh Avatar sat at the door frame and killed Hirankashyapu. It is said that from this time the beautiful festival of Holi was celebrated.
How to celebrate Holi?
In some places, Basant Panchmi marks the arrival of the Holi festival. However, primarily this festival only lasts for two days. The first day starts with Holika dehen and the other day is followed by throwing colours on each other. The first day of this festival is also known as burning holi, holika dehen or chotti holi. On this day you will find big decorated Holi's with Gooleri, Kandon, and wooden sticks on almost all the crossroads and streets. Then holika pooja takes place and after circumambulation (परिक्रमा), it is burnt with fire. During this period people sing and dance with joy and also apply Abeer and Gulal to each other. The younger ones touch the feet of their elders for blessings and the elders wish for a good future, health and long life for their younger ones. The second day of this auspicious festival is all about different colours and excitement and that is why it is known as the festival of colours. On this day people wear white clothes and use Abeer and Gulal for Tika. In fact, the colours are mixed with water and applied to each other. Small children use Pichkari, Balloons and water to fiercely play Holi. The whole locality, houses and streets are filled with the smell of Gujiya, Chaat Pakodi and Thandai. During this time people go to each other's house and play Holi together. It is believed that this festival of colours brings people closer and they forget about all the differences. In Holi, people love dancing on music beats and the passing Holiyaron ki Toli is something no one wants to miss on this day. After playing Holi, everyone takes a bath and then the series of meeting continues during the evening. People visit each other's house to share the excitement of Holi and share the packets of Gujia.
Method: Holi Pooja
Holika Poojan usually takes place during the evening. For this sit comfortably facing north or east.

Spray a few drops of water around the place. By doing this you will be able to remove any negative energy.

After this, use cow-dung to make Holika or go to a public place where Holika is already made and do your poojan. Don't forget to do Ganesh poojan before proceeding with Holika pooja.

Take a plate and put Roli, Kaccha Soot, Rice, Flower, Sabut Haldi, Batashe, Fruits, and one lota water.

After this, pray to God Narsingh and dedicate the roli, rice, batashe, flowers to the Holika and wrap up the Mauli (मौली) around Holika.

Now take Prahlad's name and throw some flowers on Holika. After doing this, take the name of God Narsingh and offer five kinds of food.

Now, take your name, your father's name and gotra name and dedicate the flowers.

In the end, follow these steps with Holika Dehen and circumambulation and bow down with folded hands.

Pour some Gulal in the fire of Holika Dehen and apply some on your elder's feet and take their blessings.

There is a custom of Flicker (बालें बुझने) in Holika Dehen. After this, don't forget to give your best wishes to your friends and family.
Holi Mantras
अहकूटा भयत्रस्तै:कृता त्वं होलि बालिशै: अतस्वां पूजयिष्यामि भूति-भूति प्रदायिनीम:

गुरु गृह पढ़न गए रघुराई अल्पकाल विद्या सब पाई

ऊं नमों नग्न चीटी महावीर हूं पूरों तोरी आशा तूं पूरो मोरी आशा

ॐ नमो भगवते रुद्राय मृतार्क मध्ये संस्थिताय मम शरीरं अमृतं कुरु कुरु स्वाहा
Significance of Colours in Holi Festival
Holi is known as the festival of colours and is celebrated for two days. The first day of this festival is occupied with Holika Dehen. The second day is all about colors and spreading happiness. It is also known as Dhulandi or Dhul. This day includes forgetting all kinds of differences and fights and greeting each other with love and respect. People meet their families and friends and share gujiya and sweets. Colours play a very important role in our lives. All these colours display a crucial part of our lives which you can clearly see in the festival of Holi.
Holi of Love: Radha and Krishna
Holi is celebrated in the memory of the holy love of Radha and Krishna. According to the plot, Baal Gopal asked Yashoda why he is not as fair as her. Yashoda jokingly told Baal-Krishna that by putting colour on Radha's face she will turn exactly like him. After this Kanha played holi with Radha and other Gopiya and from then this festival is celebrated as the festival of colours.
Holi: A Festival Decorated With Colours
The arrival of Holi brings a big smile to everyone's face. You must have seen the different ways people in India celebrate this festival. Whether it is the younger generation or the older one, both of them enjoy this festival with equal excitement and happiness. The famous song 'होली के दिन दिल खिल जाते है रंगों में रंग मिल जाते है' is enough to portray the significance of this festival. Even now people cling to the honesty and simplicity of this forever green song. This festival is not only famous for its colours. In fact, it is filled with fun and excitement and everyone from children to adults enjoy this to the fullest. Every year this festival is celebrated on the day of the full moon in the month of March. People from different states of India celebrate Holi in their own way. From Lathmaar Holi in Vrindavan to Mathura's Holi filled with flowers, all of them are famous around the world. The Holi festival has access to different countries and parts of the world. A week prior to the arrival of this festival, social media is flooded with the best wishes of Holi by Hollywood and Bollywood stars. This festival brings in various stories and ancient tales that are disappearing with time. Whether it is the story of Holika Dehen or the birth of Prahlad, every Katha has its own significance. It is said that the way goodness of Prahlad and his allegiance towards Lord Vishnu killed the evil Holika. Similarly, people's trust in God and gentleness will remove the negativity from their lives and this world. On the day of Holika, Dehen people bow down in front of the Holika so that the good triumphs over the evil. People gather at one place and burn the wood, grass and cow-dung to complete the custom of Holika Dehen. After the completion of this custom, people leave for their homes and start preparing for the next day of Holi. This is a festival that is celebrated with a lot of unity, love and brotherhood. The different colours this festival brings into our lives is well known by everyone around the world. Many Hindi films display the true meaning of entertainment and fun through this festival. In our country, this festival is celebrated as a national festival. On this day all the schools, colleges, universities, offices, institutes and any other working places are officially closed so that one can spend some quality time with their families on this auspicious and colourful festival.
Holi of Belongingness
Apart from the colours, happiness and tasty dishes, this festival is also known for brotherhood and belongingness. This amazing festival brings different colours, fun and excitement to the lives of people. One day before Holi, Holika Dehen is celebrated in which Holika is burned to set an example of the triumph of good over evil. People like to celebrate this holy day with their friends and family. It is believed that this festival allows people to forget their differences and embrace happiness.
Colourful Holi
Holi is a festival of India filled with colours and happiness which is celebrated by the Hindus with cheerfulness. People forget about all their differences and fights and celebrate the arrival of this festival with their family. Holi is celebrated in different places in India in different ways. Some places are known for "Lathmaar Holi" and other places are known for Holi filled with flowers. The way people all over India celebrate this festival displays the importance of this festival. This festival of colours is also known as Falgun Mahotsav in which many old songs are sung in Bajra Bhasha (Language). Paan with Bhaang is also an essential part of this festival. After people are drunk and high they hug each other and forget about all their fights and sing and dance together. Various dishes are prepared in all households, especially for Holi. In India, all the festivals have some or the other special dishes associated with them.
Holi With People
The second day of Holi is also known as Dhulivandan. On this day people play with colours and in the morning they leave to meet their family members and friends. They are welcomed in the houses with Gulal and different colours. People put aside their grudges and envy and meet each other with love and care. You will find various groups of people wearing colourful clothes also called Toliyaan roaming around the streets, singing and dancing on Holi. Children use Pichkari and watercolours to have fun and enjoy on this day. The whole society, with a beautiful combination of colours, looks alike and becomes one. After playing with colours people usually take bath in the late afternoon and they wear new clothes in the evening to go out and meet people. Many houses make arrangements for dancing and singing and feast on this festival. You will find people offering different kinds of sweets and especially Gujia which is one of the most important sweet of Holi. Besan Sev and Dahibade are made in almost every household of Uttar Pradesh. Kanji, Bhaang and Thandai are the most important drinks of the Holi festival. On this day all the government offices in North India are closed however in South India due to the unpopularity of Holi government offices are usually open. In India, different states celebrate this festival in their own unique way. Holi in Braj is still the centre of attention when it comes to Holi celebrations. No one can deny the popularity of Barsanes Lathmaar Holi. In Lathmaar Holi men try to put colours on the women and women beat their husbands with wooden sticks and cloth whips. Similarly, in Mathura and Vrindavan this festival extends for about 15 days. Kaumaun's geet sittings take us to a whole new world of classical music or shastriya sangeet. In Haryana, there is a custom where the sister-in-law teases the brother-in-law. Bengal's Dol Yatra is celebrated as Chetanya Mahaprabhu's birthday. It is followed by julus and songs played by people. Apart from this, Maharashtra's rang panchmi includes playing with dry gulal, Goa's Shingo includes many cultural programmes and in Punjab's Hola mohalla Sikh display their outstanding power performances. Adivasis of South Gujarat is a very significant festival, Chattisgarh Hori has a custom of including regional songs and Madhya Pradesh's Malva Anchal Adivasis area celebrate Bhagoriya that is a part of Holi. Bihar's Phagua is a great time to do fun and display excitement and in Nepal's holi you will find a more religious way of celebrating this festival. In the same way, Indians living in other countries or religious institutions like Iscon and Vrindavan's Banke Bihari Mandir celebrate Holi in their own ways and by addressing the differences and similarities.
History Of Holi In Sanskrit Literature
Holi is clearly mentioned in various types in the Sanskrit literature. Shrimadbhaagvat Mahapuraan mentions samuh raas and there are other compositions that describe a festival called Rang. In the Hindi literature of Bhaktikaal and Ritikaal, there is a clear description of Holi and Phalgun month. Aadikaleen Poet Vidyapati to Bhaktikaleen Surdas, Raheem, Raskhan, Padmakar, Jayasi, Mirabai, Kabeer, and Ritikaleen Bihari, Keshav, Dhananand etc. loved the topic of Holi festival. The great poet Surdas wrote 78 pad and Padmakar also added Holi in a lot of his compositions. Through this topic, a lot of poets described many affectionate and graceful Holi's played by the hero and heroine. On the other hand, they also described the Holi filled with love and teasing between Radha and Krishna. Hazrat Nizamuddin Auliya, Ameer Khusro and Bahadur Shah Zafar have written various compositions on the Holi festival that are read and celebrated even today. Advanced Hindi Stories like Premchand's Raja Hardol, Prabhu Joshi's Alag Alag Taliyaan, Tejendra Sharma's Ek Baar Phir Holi, Om Prakash Awasthi's Holi Mangalmay Ho and Swadesh Rana's Ho Li Mai Holi describes the different forms of Holi. In Bollywood films as well you can find various scenes and songs that display how entertaining and fun the Holi festival is. Some of the best ones are Shashi Kapoor's Utsav, Yash Chopra's Silsila, V Shantaram's Jhanak Jhanak Payal Baaje and Navrang plus many others.
History Of Holi Songs
Bhartiya shastriya, Upshastriya, Lok and in Films there is a huge significance of Holi festival. In shastriya sangeet dhamar has a strong relation with Holi, however, Dhrupad, Dhamar, Chotte Aur Bade Khayaal and Thumri also showcase the beauty of the Holi Festival. Along with Kathak Nritya, Holi Dhamar, and Thumri consisting of various outstanding Bandishe like "Chalo Guiyaan Aaj Khele Holi Kanhaiya Ghar" is still famous among the peers. In Dhrupad there is a well known Bandish "Khelat Hari Sang Sakal, Rang Bhari Hori Saki". In Bhartiya Shastriya Sangeet you will find a few melodies in which all the holi songs are sung. Some of them are basant, bahar, hindol and kaafi. Holi festival creates an environment of singing and dancing a slowly everyone gets involved in it. In the upshastriya sangeet, you will find various Holiyaan in cheti, dadra and thumri. you can understand how important the role of Sangeet is as its main part is called Holi and in different provinces, you can find various versions of the same. The sangeet of these places displays religious beliefs, history and their importance. Whether it is the story of Radha and Krishna playing Holi in Brajdhaam or Ram and Sita celebrating Holi in Awadh that is also used in a song that goes "Holi Khele Raghubeera Awadh Mai". In Rajasthan's Ajmer, there is a different vibe of the Holi sung at Khwaja Moinuddin Chishti's Dargah. One of there well known Holi is " Aaj Rang Hai Ri Mann Rang hai, Apne Mehboob Ke Rang Hai Ri". Similarly, " Digambar Khele Masane Mai Holi" describes how Lord shiva plays Holi at burial sites. In Indian Films, various songs follow different melodies and are very famous among the Indian audience. Silsila's song "Rang Barse Bheege Chunar Wali" and Navrang's "Aaya Holi ka tyohaar Ude rango Ki bauchaar" can never vanish from people's memories.
Holi celebrated in different states
In some places like Madhya Pradesh's Malva Anchal celebrates Rang Panchmi after five days of holi and people play this holi with more excitement. The best celebration of the Holi festival takes place in Braj and especially the Lathmaar Holi of Barsana that is world-famous. Mathura and Vrindavan also celebrate this festival for almost 14 days. In Haryana, there is a custom of a sister-in-law teasing her brother-in-law. On the other hand in Maharashtra, people like playing Holi with dry Gulal. For South Gujarat Adivasis, Holi is a significant festival. In Chattisgarh, people celebrate this with Lok Geet and in Malvanchal, Bhagoriya is celebrated. This festival of colours motivates us to eliminate all differences based on colour, caste and creed and adapt the colours that bring peace and love to our lives.
Why Holi is not burnt in Bhadra Kaal?
According to the shastras, Bhadra Kaal is not an appropriate time to burn Holi as it is inauspicious. It is believed that bhadra's behaviour is fiery and that is why any auspicious work is totally forbidden during this time. According to an ancient tale, it was the Bhadra kaal when Lord Shiva performed Tandava and displayed his Rodra Roop. This is the sole reason why Holika Dehen should never take place in Bhadra kaal.
What is Holashtak?
According to the Hindu Shastra Holashtak arrives eight days before Holika Dehen. On this day you cannot do any auspicious work like Greh Pravesh, Shaadi, Mundan, Sagai, or any new and favourable thing. According to shastras Holashtak is the beginning of the Holi festival. Doing any auspicious work during this will not provide you with any favourable results.
Significant things related to Holi
Holi is an auspicious festival celebrated during the spring season. According to the Hindu Panchang, this festival is celebrated at the time of the full moon in the Phalgun month. This day marks the beginning of the New Year. That is why Holi is considered as the beginning of the spring season and New Year.

Holi is one of the most ancient festivals of India celebrated with fun and excitement.

Earlier Holi was termed as Holaka or Holika and today it has many different names like Phagua, Dhulandi, Dol.

Historians believe that this festival was also famous among the Arya but it is mostly celebrated in the north of India. It is mentioned in various ancient manuscripts and texts. However, it mostly includes the Mimasa sutra and Gahrya Sutra. The ancient manuscripts and texts of Narada Puran and Bhavishya Puran also mention the festival of Holi.

The famous Muslim tourist Alberuni has mentioned Holikotsav in his memoir. Many Muslim Poets have used the Holi festival in their compositions and proved that not only Hindus but Muslims also celebrate this auspicious occasion.

There are descriptions in the history of Akbar celebrating Holi with Jodhabai and Jahangir with Noorjahan. In the Alwar museum, you can find pictures of Jahangir playing Holi.

Till Shahjahan appeared the Mughlai way of playing Holi completely changed. In those times Holi was called "Eid-E-Gulabi" or "Aab-E-Paashi".

It is quite famous about Mughal Emporer Bahadur Shah Zafar that his ministers used to put colour on him in Holi. Hindi literature is filled with various Krishna Leelas especially describing the Holi festival.

Sanskrit Literature consists of the different phases of the Holi festival. In Shreemad Bhagvat Puraan Holi is described as a Raas. The great poet Surdas wrote 78 Pad on spring and Holi.

Shastriya sangeet has a very close relationship with the festival of Holi. In fact, without Dhrupad, thumri and dhamaar, Holi is still incomplete. Adding to this, the songs sung at Khwaja Moinuddin Chishti's Dargah in Ajmer adds a different colour to this festival.
Safety Precautions for Holi
Holi is a beautiful festival but doesn't forget to maintain the necessary precautions. Nowadays people face a lot of issue due to the negative impacts of harmful chemical in the colours. That is why it is better to celebrate this festival by using natural gulal.

Similarly in Bhaang, one can find various other harmful drugs and substances that can harm you. It is better to avoid drinking and using any type of intoxication.

If you use colours with harmful chemicals, you can catch various eye infections. Try to use only organic colours to play Holi and avoid the ones that use consists of harmful chemicals.

If you are planning to eat from outside then be careful as there can be a lot of impurity that can harm your organs.

Apply colour to each other more carefully and don't force someone if they are not willing to play Holi.
Click to know Holika Dahan Muhurat and Significance
You can read similar write-up on relevance of astrology in indian festivals for all other major Indian Festivals.