Indian Festivals & Muhurat
For Next Year's click inside the respective Festivals Tab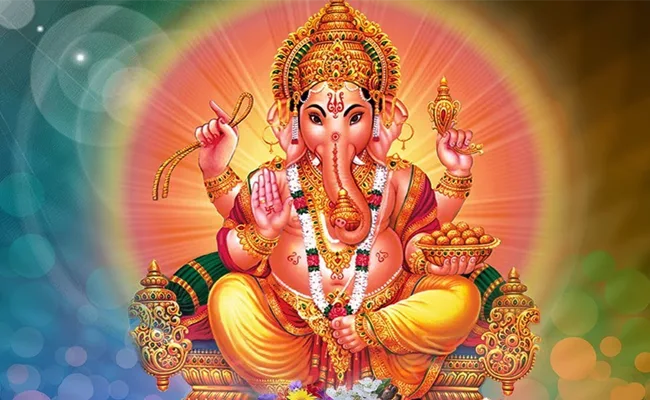 People perform the Sthaapna of the first revered God, Ganesha Ji, at their homes. On Ganesha Chaturthi, people bring Ganapati Bappa to their houses. Ganesha Ji removes all the obstacles of his devotees. Hence, Ganesha Ji is also known as Vighnaharta. Ganesha Ji's Sthaapna is done at the homes with respect, and then his Visarjan is done with a lot of pomp and show. Lord Ganesha has particular importance in the Sanatan Dharma. Lord Ganesha is also known as Gajanan or Vighnahartabhi. Gajanan is considered to be the provider of Riddhi-Siddhi and happiness-prosperity. As per the shastras, Ganpati Bappa releases his devotees from troubles, suffering, poverty, and diseases. This day is also called Ganeshotsav, which means Utsav of Ganesha Chaturthi. This Utsav after ten days from now, on then Anant fourth day. On the same day, people bid farewell to Ganapati Bappa. On the day of Anant Chaturdashi, devotees perform the Visarjan of Ganesha Ji's idol with pomp and show.
इस पेज को हिंदी में पढ़ने के लिए "गणेश चतुर्थी" पर क्लिक करें।
Ganesha Chaturthi is celebrated on the Shukla Chaturthi of the Bhadrapada. It is believed that Ganesha Ji was born on Bhadrapad Shukla Paksha Chaturthi during the mid-day, on Monday, Swati Nakshatra and Singh Lagna. Hence, this Chaturthi is primarily is called Ganesha Chaturthi or Vinayaka Chaturthi. This festival is famous as Kalank Chaturthi, and as per the lok tradition, this is also known as Danda Chauth.
Ganesha Chaturthi is celebrated with great grandeur and faith, especially in Maharashtra, Western India. As Ganesha Ji also has the name Vighnaharta, Hindus believe that Ganesha is worshiped with reverence and rules during these auspicious ten days. Then Lord Ganesha, also known as the leader of Gods, ends all obstacles in your life and showers blessings, prosperity, and happiness upon his devotees.
The Importance of Ganesha Chaturthi
It is known from Shiva-Parvati's son Ganesha's birth story that Ganesha was born not of birth but the dirt of Parvati's body. Before taking a bath, Mother Parvati went away by making Ganesha Ji sit at the door as her protector, and Shiva Ji was unaware of this thing. He beheaded Ganesha Ji, considering him an opponent in the path of meeting Parvati. When Shiva Ji came to know about the reality, he ordered his people to bring the son's head, situated behind his mother's back. When the people of Shiva got the son of an elephant in this condition, they brought his head only, and Shiv Ji resurrected the child by putting the elephant's head on the child's head. This incident happened on the Chaturthi of the month of Bhadramas. Hence this Tithi is considered to be Ganesha Chaturthi, believing it to be the birth of Ganesha. On this day, Lord Ganesha was born. Ganesha Ji has been considered as the first revered among all the Gods. On this day, bringing Ganapati Bappa to the house removes all his devotees' obstacles and difficulties. Hence, he is also known as Vighnaharta. People bring Ganesha Ji to their homes on Ganesha Chaturthi, and on the eleventh day of Ganesha Chaturthi, his Visarjan is performed with a lot of pomp and show. Ganesha Ji is worshipped before starting any work.
Bappa is the Lord of the Gana. Hence one of his names is Ganapati. Ganesha Chaturthi is called Vinayak Chaturthi. It is also called Danda Chauth in many places. Ganesha Ji is considered to be the provider of knowledge-wisdom, the destroyer of obstacles, and Mangalaka. On the day of Ganesha Chaturthi, the special Puja of Ganesha Ji is done. When Ganesha Chaturthi falls on Tuesday, it is called Angarak Chaturthi. This festival is believed to offer pure and magnanimous outcomes. Hence, this day is very ceremonial. Ganesha Chaturthi, the only festival that binds India's whole in one thread, is a bright symbol of national unity. If we turn to history, we come to know that the Puja of Ganesha Chaturthi has been going on since Chalukya Satavahana and Rashtrukta. A clear description is received from the reign of Chatrapati Shivaji when he started doing Ganesha Vandana Puja to promote national culture and unity. The essence of Ganeshamaya ambiance reaches the maximum limit in ten days and then gets calm only with Ganesha Visarjana.
The History of Ganesha Mahotsav
No one knows the exact Tithi of the beginning of the Puja of Ganesha Chaturthi festival. Historically, this festival got important during 1630-1680, in Shivaji's era (the founder of the Maratha Empire). At that time, this festival was celebrated as a public ceremony. During the times of Shivaji, this Ganeshotsav started being followed in the form of his Kuladevata regularly. After the end of the Peshawas, this festival used to prevail as a familial celebration; in 1893, the celebration of this festival was again started by Lokmanya Tilak ( Indian Freedom Fighter and social reformer). Ganesha Chaturthi began to be celebrated as an annual festival followed by a Hindus's domestic ceremony with immense preparation. Generally, it began to be observed as a national festival to bring unity among the people and remove the struggle between Brahmins and non-Brahmins. During the British rule, to get themselves free from their cruel behavior, Maharashtra people followed this festival with immense courage and nationalist enthusiasm. Lokmanya Tilak established the ritual of Ganesha Visarjan.
Gradually people started celebrating this festival in the form of community participation rather than family celebrations. People of the society and community celebrate this festival together as a community festival and collectively perform intellectual speech, poetry, dance, devotional songs, drama, music festivals, folk dances, etc. Before the date arrives, people meet together and decide to control such a massive crowd and celebrate the festival.
Timeline of Ganeshotsav
Ganesha Ji's festival begins with the worship of Lord Ganesha by doing the sthaapna of the Ganapati idol on the Chaturthi of Shukla Paksha of Bhadrapada month. For ten consecutive days, He is kept in the house. On Anant Chaturdashi, people bid farewell to Him. On this day, the Ganesha idol is taken for Visarjan while playing drums and singing and dancing. Ganeshotsav ends with Visarjan.
How is Ganesha Utsav Celebrated
This festival, which goes on for ten days, is a fantastic testimony to the Hindus' devotion. In this, the Sthaapna of Shiva-Parvati-Nandan Sri Ganesha's idol, ranging from the height 3-4 inches to 25 feet, is done at the houses, temples, and Pandals on the Shuddha Chaturthi where the idols are adorned and a Pandit performs "Pranpratishtha" of the Pratima by indulging in Vedic Mantraocchran. For ten days, meaning till Anant-Chaturdashi, Ganesha's Pratima, is worshiped every day with all regulations. On the eleventh day, the Visarjan of this idol is performed in a clean water-body. The water body can be a river or ocean.
Why is Ganesha Chaturthi Celebrated
Who should be considered worthy of being worshipped when the Gods reached Lord Shiva. Then, Shiva said that the first person who will revolve around the entire Earth would be regarded as worthy of being worshipped on a prior basis. In this way, all the gods departed to revolve around the EarthEarth by sitting in their Vaahan. As the Vaahan of Lord Ganesha is a rat and Ganesha's body is enormous, how he could revolve around the Earth. Then, Lord Ganesha completed three revolutions around his father Lord Shiva and Mother Parvati and stood there with folded hands through his intellect and judiciousness. Then Lord Shiva said, "There isn't anyone greater and intelligent than you in the entire universe." By revolving around the mother and father, you have completed the revolutions of all the lokas. You have received its Punya, which is even greater than circles of the Earth. Hence, A person who will worship you before starting any work will not have to face any difficulties. Since then, Lord Ganesha became respected and worshiped before all the Gods and Goddesses, and then after the worship of Lord Ganesha, all other gods are worshiped. All the devotees celebrating Ganesha Chaturthi perform the Visarjan of the idol of Lord Ganesha, the Sthaapna of which was done on this day on the eleventh day of Anant Chaturdashi, and thus Ganesha Utsava gets concluded.
Why is Ganesha Ji known as the God of Knowledge?
Once, Lord Shiva and Devi Parvati challenged both their sons, Ganesha and Kartikeya, to complete three revolutions of the universe. The one who will complete the challenge first will be complemented with the fruit of knowledge. Kartikeya flew away, taking his Vajra peacock. Ganesha completed three revolutions of his mother-father and explained to them that the entire universe on their feet. Shiva and Parvati got impressed by his answer, and hence, they bestowed the fruit on him.
Bappa removes all the troubles.
It is believed that there are special blessings in the houses where Bappa is welcomed and worshipped for ten days, and troubles never arrive in such homes. With the blessings of Ganesha Ji, all the tasks get completed without any obstacle. All the wishes are fulfilled.
Sthaapna of clay idol of Ganesha Ji
Ganesha Ji's Puja is considered to be the easiest Puja among all the Gods. On Ganesha Chaturthi, the Sthaapana of clay idol of Ganesha Ji is done in every house. It is believed that this body is made of five elements and will get mingled in these five elements only. Based on this belief only, the Visarjan of Ganapati Ji is done on the Anant Chaudsah.
This Festival Goes on for Ten Days
Starting from the Chaturthi of Shukla Paksha of Bhadramas, this festival lasts for ten days, till Ananda Chaudas. On Chaturthi, Ganapathi Bappa visits every house, and after ten days, the Visarjan of Bappa is performed, and the idol is immersed. According to their capacity, people bid farewell to Bappa after 2 or 3 days of worship.
The Vidhi of Ganesha Chaturthi Fast
1. After the morning bath, bring Ganesha's idol made of gold, copper, and clay.
2. Take an empty Kalash and fill it with water. Tie its mouth with plain cloth and make Ganesha Ji sit on it.
3. Offer vermilion and Durva to Ganesha Ji and offer him Bhog made of twenty-one laddoo. Among these, offer five laddoos to Lord Ganesha and distribute the remaining laddoo among the poor or the Brahmins.
4. The Pujan of Ganesha should be done in the evening. After reading the Ganesha Chaturthi Katha, Ganesha Chalisa, and Aarti, offer Arghya to the Moon by keeping your eyes down.
5. On this day, Ganesha Ji is worshipped in the form of Siddhivinayak, and fast is observed.
The Bhog on Ganesha Chaturthi
After the Sthaapana of Ganesha Ji, he is worshipped with all the rules and regulations daily. Then Bhog is offered to him in the morning and evening. Ganesha Ji loves Modak the most. Hence, he is provided Bhog made of Modak on Ganesha Chaturthi.
Do not witness the Moon on Ganesha Chaturthi Even By Mistake.
Once, while riding on a rat, his Vaahan, he slipped, making the Moon laugh. Ganesha Ji got angry, and in his anger, he gave bane to the Moon, "You will not be able to show your face to anyone, and if someone looks at you, that person will be sinning." After cursing the Moon, Ganesha Ji left from there. The Moon got sad, and he got worried and guilt-ridden, said to himself, "What did I do with the Sarvaguna Sammapan God"? The Gods also got low on the issue of not being able to do look at the Moon. Then, under the supervision of Indra, all the Gods began to worship Gajanan. Being pleased with his worship, Ganesh Ji asked them to put forth their demand. All the Gods said, "Prabhu, it is our request to you; please make the Moon as it was earlier." Ganesha Ji said to the Gods, "I cannot take back my curse, but I can modify it a bit. Anyone who does the Darshan of the Moon on Bhadra, Shukla, Chaturthi deliberately or unknowingly, that person will be cursed, and false accusations will be made on him". If Darshan happens on this day, then to prevent yourself from this sin, read the following manta-
''Singh Prasenamvadhitsingho Jambavta Hatah
Sukumarak Maa Rodistava Horsha Syamantak''
The Gods said to the Moon, "You have insulted Ganesha by laughing at him. We, together, have apologized to him for forgiving your sin; pleased by our efforts, Gajanan has greatly reduced the curse by giving the promise of staying invisible only once a year on Bhadra Shukla Chaturthi. You also go to his harbor and acquire his blessings and then provide coolness to the universe".
Perform the Sthaapna of Left Tusked Ganesha Ji
The direction of Sri Ganesha's tusk has a lot of importance in Sri Ganesha Puja. It is believed that Ganesha with the left trunk should be seated in the house. By doing this, he gets happy immediately while right trunked Ganesha takes time in getting pleased. Therefore, householders should worship Ganesha with the left trunk.
Some Interesting Facts About Lord Ganesha
1. Lord Ganesha is considered the First child of Lord Shiva and Mother Parvati.
2. Being the leader of Ganas, he is called Ganapati.
3. In astrology, Lord Ganesha is called the 'God of Ketu.'
4. His name is 'Gajanan' as he has a face like that of an elephant
5. He has a boon that no worship and no work will be completed without worshiping him. That is why he is called 'Adipujya.'
6. The sect that worships only Lord Ganesha in India is called the 'Ganapataya Sampradaya,' mainly found in Maharashtra.
7. Ganesha Ji is a symbol of the long elephant-like trunk of Mahabudditva.
8. Ganesha Ji has been called Pranava (ॐ) in Shivmanas Shastra. The upper part is Ganesha's forehead, the lower part is the abdomen, the Chandrabindu laddu, and the Matra is the trunk.
9. Some religious texts state that Ganesha also had a sister named Ashok Sundari.
10. Ganesha Ji has two wives, named Riddhi and Siddhi.
11. Both Goddess Lakshmi and Goddess Parvati are Adi Shakti, i.e., Goddess Durga. Goddess Lakshmi is not worshiped without her son Ganesha because the value of Lakshmi can be understood only by the one who has the wisdom, and Ganesha is the symbol of wisdom.
How can Lord Sri Ganesha be Made Happy?
As soon as the Ganeshotsav begins, efforts to please Sri Ganesha begin to intensify. Sri Ganesha becomes happy with minimal solutions. Know the simplest ways to please Sri Ganesha
1. On Ganesha Chaturthi, the names of Lord Ganesha should be remembered. The Lord gets happy by performing Puja in a temple with all the rules and regulations.
2. Offer ghee and jaggery as Bhog to Lord Ganesha on this day. After offering the Bhog of Ghee and jaggery, it should be fed to the cow. Doing so brings financial prosperity.
3. If opposing forces inhabit the house, then the Sthaapana of white-colored Ganapati should be done in the temple of the house on the day of Ganesha Chaturthi. It destroys all kinds of evil forces.
4. On this day, Lord Ganesha should be offered Durva. If possible, an idol of Lord Ganesha should be made from Durva and should be worshipped.
5. One should apply Sindoor Tika to Lord Ganesha for sure. After this, tilak should also be put on one's forehead.
3 Interesting Ancient Myths Related to the Birth of Sri Ganesha
1. According to Varaha Purana, Lord Shiva created Ganesha with five elements. When Lord Shiva was making Ganesha, he found a unique and lovely form. After this, the news was received by the gods. When the gods came to know about Ganesha's structure and uniqueness, they began to fear that he might become the center of attraction for everyone. Lord Shiva sensed this fear, after which he enlarged his stomach and turned his face to an elephant.
2. At the same time, the story in Shivapurana is different from this. According to this, Mata Parvati had applied turmeric on her body. After this, when she removed the turmeric from her body, she made an effigy from it. She later put his life in the effigy. And, hence, Vinayak was born. After this, Goddess Parvati ordered Ganesha to sit at her door and protect her and not let anyone come in. After some time, Shivaji came home, and he said he has to meet Parvati. Ganesha Ji refused this. Shivaji did not know who he was. The two got into a dispute, and that dispute took the form of war. During this, Shivaji took out his Trishul and beheaded Ganesha. When Parvati came to know, she came out and started crying. She told Shiva that you beheaded my son. Shivaji asked how he could be your son; after this, Parvati told Shiva the whole story. Shivaji, while pacifying Parvati, said, that okay, I am pouring my life in him, but I require the head to do that, and the head is required. He asked Garuda Ji to go in the north direction and bring the head of a child whose mother is lying by keeping her back towards the child. Garuda Ji kept wandering, but he could not find any such mother because every mother sleeps by facing her child. Finally, an elephant was seen. The structure of a mother elephant is such that she cannot sleep facing her baby elephant. Garuda Ji brought the head of that baby elephant. Lord Shiva attached that head to the child's body. He poured life into it. He provided him with a name. In this way, Sri Ganesha got the head of the elephant.
3. It is described in Sri Ganesha Chalisa that Mata Parvati did hard penance to have a son. Pleased with the penance, Sri Ganesha himself took the form of a Brahmin and gave her the boon that without conceiving, Mother, you will acquire a divine and intelligent son. Having said this, he became pleased and arrived as a child in the cradle. Joy prevailed in all four worlds. Lord Shiva and Parvati arranged a huge celebration. Goddesses, gods, Sur, Gandharvas, and sages from every side started arriving to see. Shani Maharaj also came to visit. Mata Parvati urged him to look at the child walking and bless him. Shani Maharaj was trying to avoid seeing the child because of his vision. Mother Parvati felt terrible. She cried at Shanidev that you did not like this festival, did not like the child's arrival. Shani Dev hesitantly went to see the child, but as soon as a little sight of Saturn fell on the child, the child's head flew into the sky. The atmosphere of the festival was transformed into lamentation. Mother Parvati became worried. There was chaos all around. Soon Garuda Ji was asked to bring the best head from all four directions. Garuda Ji got the elephant's head. Shankar Ji took his life by attaching it to the child's body. This head was attached to the body of the child by Shankar Ji, and he poured life into him. In this way, the head of Ganesha Ji was received by an elephant.
Why is the Visarjan of Ganesha Idol Performed
As per religious texts, when Ved Vyas Ji had narrated the story of Mahabharata to Lord Ganesha for ten days, he closed his eyes. On opening his eyes after ten days, he observed that Lord Ganesha's temperature was very high. At the same time, Ved Vyas Ji made him take a bath in the nearby Kund. Doing this reduced his body temperature, so Ganesha Ji is worshiped for the next ten days after the Sthaapana of Ganpati, and then the Visarjan of the idol of Lord Ganesha is performed. Ganesha Visarjan symbolizes that this body is made of dust and gets mixed with dust in the end.
Therefore, on Chaturdashi, after Ganesha Sthaapana, he is cooled. In the same story, it is also mentioned that to prevent Sri Ganapati Ji's body from becoming warmer, Ved Vyas Ji applied a layered paste of fragrant clay on his body. Ganesha's body got stiff after the paste dried. The dried clay started falling too. Then took him to a cold lake and made him get into the water. Meanwhile, Ved Vyas Ji offered his favorite food to Sri Ganesha for ten days. Since then, symbolically, the Sthaapana and Visarjan of Sri Ganesha idol are done, and it is also customary to offer him a delicious diet for ten days.
How did a rat become the Vaahan of Ganesha?
His Vaahan is a small mouse as compared to Lord Ganesha's physical structure. Why did Ganesh Ji choose a little creature as his Vaahan? Mooshak also sits on his Dhwaja. Ganesha is the presiding God of wisdom and learning. There is no one more able than him in arguments and debates. His passion is to get to the depth of every single thing or problem, do the research, and conclude. Mooshak is not also far behind in arguments. It cuts and trims every item and is equally active. It gives the message of being alert. Ganesha Ji had considered these qualities only while choosing rat as his Vaahan. Once Lord Ganesha was invited to the ashram of Maharishi Parashar. Crounch stepped into the ashram and destroyed it. Lord Ganesha decided to meet the giant rat and teach him a lesson. He had one of his weapons called 'Pasha,' which looped around Crounch's neck and took him to Ganesha's feet. Concha apologizes and asks Ganesha to accept him as his Vaahan. However, Karuna could not bear the weight of Lord Ganesha, and he requested her to reduce weight and smile. Since then, Mooshak has been the Vaahan of Lord Ganesha.
These items Must be offered to Ganesha Ji.
Modak: Modak is a special kind of sweet. Ganesha Ji loves it, and if offered Modak, He fulfills the wishes of the devotees.
Green Durva: Ganesha Ji especially loves green Durva. It is believed that green durva offers freshness and coolness to Him.
Bundi Laddoo: Ganesha Ji also loves Bundi Laddoo. If Bundi Laddoo is offered to Ganapati Ji as Bhog, He blesses His devotees with wealth and prosperity.
Sriphal: Ganesha Ji loves Sriphal among all fruits. Hence, in the Aarti of Gajanan, Sriphal is offered.
Sindoor: sindoor tilak is applied to him to make Ganesha Ji happy. After applying Sindoor Tilak to Ganapati Ji, we should also apply sindoor tilak to ourselves.
Red Flowers: Sri Ganesha Ji loves red flowers. Hence, there is a rule of offering red flowers while Ganapati Puja is performed. As per the belief, he gets happy with red flowers without any delay.
Shami Leaves: By offering Shami leaves in Ganesha Puja, there is an increase in wealth and happiness.
Know these Important Rules Before Ganesha Sthaapna
It is said that if the Sthaapana of Ganapati Ji is not done according to rules and regulations, then he does not get seated, nor one acquires his blessings. Know how you can earn Ganapati Bappa's blessings, how you can do his Sthaapana, and what points you must keep in mind:
1. On Ganesha Chaturthi, one must take a bath, wear clean clothes, and then bring home the Ganesha idol.
2. Clean the chowki with Gangajal and spread a red or green colored cloth on it.
3.After spreading a cloth, keep Akshat upon it and perform the Sthaapana of Lord Ganesha upon the Akshat.
4. Sprinkle Gangajal over the idol of Lord Ganesha.
5. Make Lord Ganesha wear the Janeyu and after keeping Akshat on the left side, perform the Sthaapana of the Kalash. Make the symbol of Swastika on the Kalash.
6. Keep mango leaves on the Kalash, tie a Kalava on a coconut and place it on the Kalash.
7. After the Kalash's Sthaapana and offering Durva to Ganapati Bappa, offer him Bhog consisting of Panchmeva and Modak.
8. Offer flower-garland, Roli, etc. to Lord Ganesha
8. Now, do Ganapati's Tilak with Roli. After tilak, light up an Akand Diya in front of Ganesha Ji and keep it on the right side.
9. Now, perform Lord Ganesha's Aarti.
Keep these things in mind During Ganesha Sthaapna.
1.The Sthaapana of Ganapati Bappa's idol in the east and north direction is considered to be auspicious. It should not be done in the southern and south-west corners by any means.
2.In the home or office, two idols of Lord Ganesha must not be kept. As per Vastu Shastra, there is a clash between energies, which causes loss of money.
3.During the Sthaapana of Lord Ganesha, one must keep in mind that the idol's face should not be towards the door. It is said that there are Riddhi, Siddhi, and happiness towards the mouth of Lord Ganesha.
4.The Akand Jyoti should be kept in front of Lord Ganesha till the day of Visarjan
The Echo of Ganapati Bappa Morya in Maharashtra
In Maharashtra, special events are held on this day, and the heart gets overwhelmed by seeing the faith in people. On this day, all the devotees carry Ganapati on the foot, chariots, and vehicles, and perform the Visarjan with great pomp and show. They shout slogans, "Ganpati Bappa Morya, Mangal Murti Morya, Parcha Varshi Laukariya." The meaning is that "O Parampita Ganesha Ji! Mangal Karne Wale, come soon next year." This auspicious festival is a time of great happiness for Hindus. During these ten days of Ganesha-puja, worshiping the selected Yanta with Ganesha-Pratima in Ganpati Puja pleases Ganapati Ji and fills your life with joy, prosperity, and good fortune. It is due to the particular importance of these Yantras, which makes the Pujan very auspicious. Just as Diya, incense, flowers, and prasad are necessary for worshiping through rules, in the same way, you get unique benefits by worshiping these Yantras.
Do's and Dont's On Ganesha Chaturthi
What to Do on Ganesha Chaturthi
1.Perform the Sthapana of Ganesha idol made of clay only and, at the same time, perform the Sthaapana of the Kalash too.
2. Offer Durva to Ganesha Ji after performing his Sthaapana on this day.
3. Lighten up an Akand Diya after performing the Sthaapana of Ganesha Ji, which should keep burning till Ganesha Visarjan.
4.You should worship Lord Ganesh both in the morning and evening after the Sthaapana of Ganesha.
5. On Ganesha Chaturthi, do offer Modak to Lord Ganesha twice a day.
6. You should only use marigold flowers in the Puja of Ganesha Ji.
7.After the Sthaapana of Ganesha Ji, do keep betel- nut in Ganesha Puja as it is considered extremely important.
8. You should take care of an elephant and feed it grass from Ganesha Chaturthi to Ganesha Visarjan.
9. Anything you offer as Bhog on Ganesha Chaturthi must be distributed among the poor in the form of Prasad.
What not to do on Ganesha Chaturthi
1. Do not do the Sthaapana of Lord Ganesha in the west and south direction on Ganesha Chaturthi.
2. You should not use Tulsi in Ganesha Puja.
3. You should not forget to visit Ganesha Ji's back on Ganesha Chaturthi
4. You should also not have Chandra Darshan in the evening time on Ganesha Chaturthi.
5. Abstain from using garlic and onions at home, from Ganesha Chaturthi to Ganesha Visarjan.
6.When you perform Ganesha Sthaapan, you ought to take care that there isn't any fight at home.
7. Neither you should say ill words to anyone on Ganesha Chaturthi and nor you should speak against anyone behind their back.
8. Avoid committing any mistakes in Puja from Ganesha Chaturthi to Ganesha Visarjan. You need to take special care of this thing.
9. Do not bully or kill any animal on Ganesha Chaturthi.
10. Do not insult any Brahmin or poor person at all on Ganesha Chaturthi.
If any devotee merely takes the name of Sri Ganesha with devotion, then all his/her wishes come true for sure. Worship Ganesha Ji, following all the regulations, and offer him his likable items. Thus, it helps in acquiring fruits as per the desires. Although Ganesha Ji is considered to be innocent, certain precautions must be followed while worshipping him. Devotees should not do anything which would make Ganpati Bappa angry.
Ganesha Ji Might Get Angry by these things:
Do not do Darshan of Ganesha Ji's back:
As per the Shastras, by doing Sri Ganesha's Darshan, all the tasks get fulfilled. All the parts of the universe are inside him. However, doing the Darshan of Ganesh Ji's back is strictly prohibited. Poverty resides in Ganesha Ji's back. Hence, Darshan of Ganapati Ji's physical back should not be done. If it happens by mistake, an apology should be sought from Ganesha Ji.
Do not Use Tulsi
Tulsi should not be used by mistake as well, in the Puja of Ganesha Ji. It might make Sri Ganesha Ji angry. It is believed that Tulsi Ji wished to marry Sri Ganesha, and when Ganesha Ji denied, she cursed Him with a bane. Along with the Puja of Ganesha Ji, wife Riddhi-Siddhi and son Shubh-Labh should be worshipped. Giving space to rats at the puja place, Ganesha Ji gets pleased by the devotees.
Perform the Visarjan of the old idol
If you are doing the Sthaapana of Ganesha idol at home, you must perform the Visarjan of the old Pratima. As per the shastras, three idols of Ganesha should not be kept at home. It is also believed that, during Anant Chaturdashi, the Visarjan of this idol should not be done. The Sthaapana of this idol is done on the fourth day of the month of Bhadrapada.
Importance of Ganesha Visarjan
In Hindu mythology, there is an exciting story behind Lord Ganesha's visarjan. The celebration of Ganesha Chaturthi represents the cycle of human life: birth, life, and death. It is believed that on the last day of Ganesh Chaturthi, Lord Ganesha returns to Kailash to join his parents. People worship Lord Ganesha and ask for blessings so that they can live obstacles-free life. It is also believed that when Lord Ganesha leaves the house, all the negative energy and problems vanish away.
According to Hindu mythology, if Ganesh Visarjan is also done according to the auspicious time, it will prove beneficial.
What to consume on Fast and what should be avoided?
During Ganeshotsav, some people observe fast for the entire ten days. However, they fail to take care of their health, due to which they face the problems of vomiting, acidity, and indigestion. During the fast, have the juices of sweet lemon or orange and eat papaya. It will enable the body to have the energy for the whole day. Have a heavy fruit diet in the morning between 7-8 and eat light at night. You can have Kuttu Atta or the chappatis/parathas made of Singadha Atta or Rajagir Atta instead of having sabudana khichdi or Atta Halwa. Avoid having fried items during fast. Apart from this, avoid excessive tea and coffee. There might be discomfort in terms of lower sugar levels or low blood pressure during fast. Hence, keep eating at regular intervals. If you have chronic kidney disease, avoid sendha salt as it can be harmful due to potassium.
You can read similar write-up on relevance of astrology in indian festivals for all other major Indian Festivals.